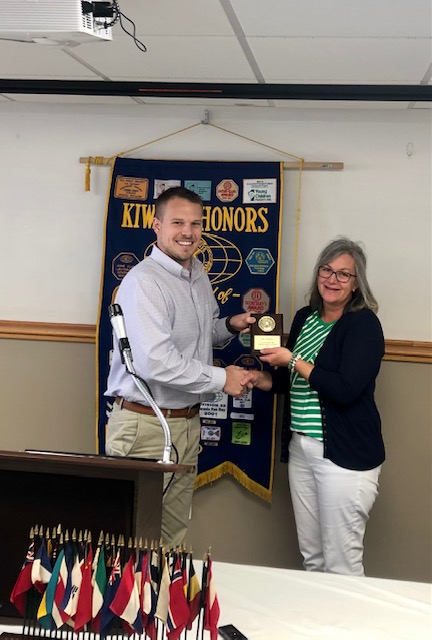 It's hard to know how or why the award began, but it makes sense that Kiwanis honors an Educator of the Year annually because they share a motto.  Both aim to "serve the children of the world".  On Thursday afternoon, Kiwanis Club President Justin Dartt named the winner quoting her nomination…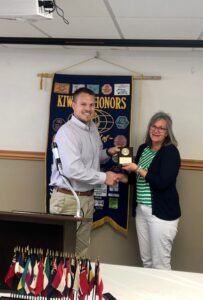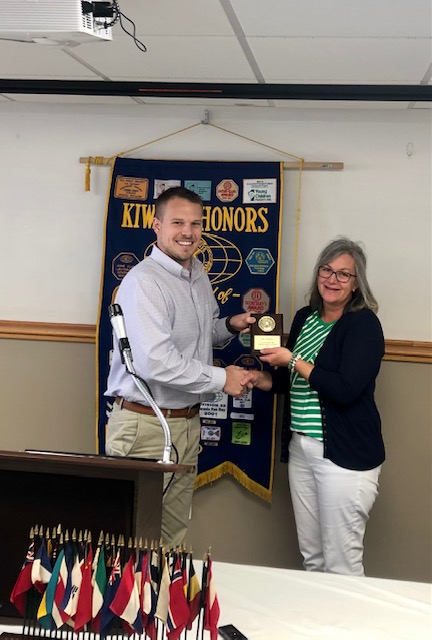 Carol Potter is the 53rd winner of the Kiwanis Educator of the Year award.  Kiwanis first started handing out the award in 1968 when Floyd Cotter was the inaugural winner.  Potter has worked at NCOE and was also an aide at Jefferson Attendance Center over 12 years.
New this year, the Kiwanis Club awarded a Support Staff member of the year.
Ridenour started in 2001 and is a 4th Grade Special Education Assistant.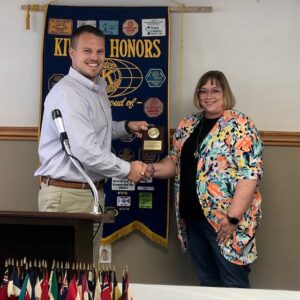 The district only has one retiree this year, Kendra Winter has served as an educator for 34 years, the last 31 in Unit 5.
Building administrators, Bart King, Jarrod Newell, Amy Atteberry, Kathy Price, and Dr. Amy Dixon Dixon gave updates and talked about the challenges over the school year.  Dr. Dixon commented on just how important it is that kids have been able to come to school.
Superintendent Lee credited the students with being resilient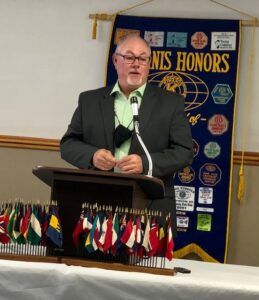 Kiwanis Educator of the Year History
1968 – Floyd Cotter
1969 – John Evers
1970 – Beulah Huber
1971 – Wave Jamerson
1972 – Marie Harrawood
1973 – Charles Hortin
1974 – Adamae Roosevelt
1975 – Faye Mitchell
1976 – Mike Croghan
1977 – Ernest Fechtig
1978 – Dean Hughes
1979 – Bill Duncan
1980 – Bernice Dartt
1981 – Mary Maze
1982 – Peggy Huff
1983 – Ted Matsel
1984 – Larry Busch
1985 – Simon Naas
1986 – Don Dixon
1987 – Ken Hurt
1988 – Steve Martin
1989 – Steve Bell
1990 – Cindy Martin
1991 – Trudy Jacobs
1992 – Dale Medlin
1993 – Don Kittinger
1994 – Nancy Gher
1995 – Alice Bryant
1996 – Don Garrett
1997 – Dave Johnson
1998 – Betty Brown
1999 – Molly Rawlinson
2000 – C. Dean Hughes
2001 – Kenneth Brown
2002 – Dr. Frank Barbre
2003 – Jack Russell
2004 – Larry Gwaltney
2005 – Melanie Allyn
2006 – Judy Gaines
2007 – Cindy Colman
2008 – Cathy Wilkey
2009 – Sharon Martin
2010 – Sharon Whitsitt
2011 – Judy Warrick
2012 – Teresa Hon
2013 – Terry Gholson
2014 – Barbara McArthy
2015 – Joan Wallace
2016 – Cindy Hoskins
2017 – Alex Aud
2018 – Gina Sailer
2019 – Leanett Lovell
2020 – William Knight
2021 – Carol Potter
Support Staff of the Year – Kay Ridenour