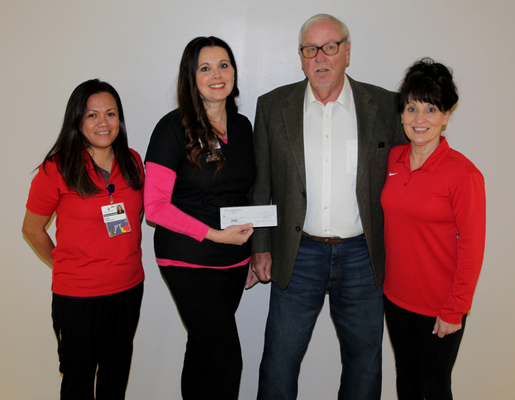 The Jerry Cox Foundation Trust has made a $1,000 to the Fairfield Memorial Hospital Therapy Department. Mr. Cox made the $1,000 donation after receiving therapy at Fairfield Memorial Hospital's Therapy Department following his knee replacement surgery. Jerry said he made the donation as a gesture of appreciation after the Therapy Department improved his mobility.
"When deciding to donate to the Therapy Department, it was an easy decision. It was a thank you for the wonderful service I received post-surgery.  I had knee replacement surgery and I received amazing care from the staff. I got to know the Staci, Jennifer and Caryl while receiving the treatment and they easily became a fun group to be around and I created a great friendship with them all!" commented Jerry Cox.
This donation was very much appreciated by Fairfield Memorial Hospital to help fund new equipment for the rehabilitation of patients. "We cannot thank Jerry enough for so generously donating to our Therapy Department. We are so grateful to have people like Jerry who like to give back to such a wonderful program.  Our Therapy Department works hard with all of their patients to bring them back to a full recovery. This donation will help others like Jerry in their rehabilitation by purchasing additional equipment." stated FMH CEO Katherine Bunting-Williams.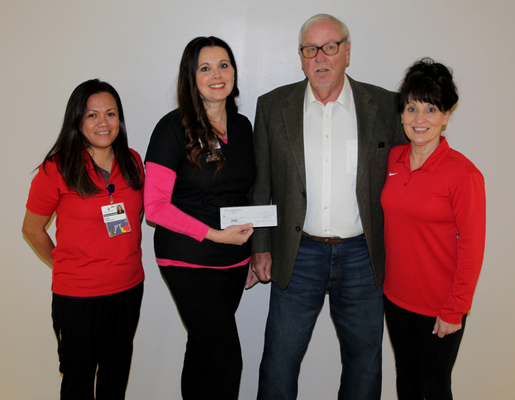 To learn more about how Fairfield Memorial Hospital's Therapy Department can assist you on the road to recovery, call 618-847-8256 to speak with one of our highly trained Therapy personnel.