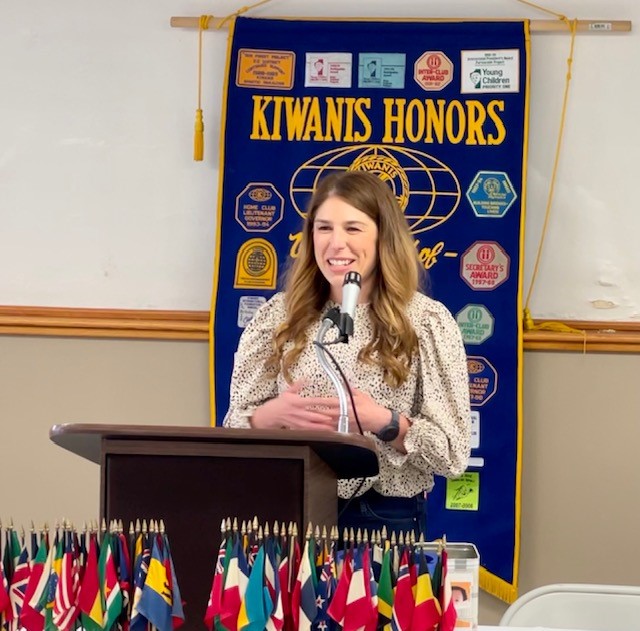 In 2011, pop diva Beyonce posed the question, "Who run the world?" with the answer being obviously…girls.  Jenny Howard is definitely running with her infectious optimism shining a beacon of sunshine into any room she enters.  Such was the case Thursday afternoon when Howard dropped by the Carmi Kiwanis Club's regular meeting to introduce the community to a new running club aimed at empowering and encouraging young women.  That Fast Girl Running Club kicks off this Monday.  Howard says she arrived at the name of her organization at an Evansville run where everyone knew each other and she was the only person without any specific connection.
Howard adopts a golf mentality to running saying it's not necessarily about competing against other runners as much as it is about the mentality and working to get better in whatever way you want.  She's quick to point out that you can finish last and still have a personal best.
With 27 young ladies already signed up, Howard and her team of volunteers are off to a great start.  There will be two groups, girls entering 2nd grade through 4th from 5:15 to 6pm on Mondays and Thursdays, and the second group of young ladies entering 5th grade through 8th meeting 6:15pm to 7pm.  The club will gather at the high school track.  Volunteers include:  Emily Williams, Lisa Wolff, Marcie Hoskins, Jan Blankenberger, Peyton Dixon, and Jenny's mother Judy Mae Bingman.
Howard says you can learn more or sign up for the club by calling her directly at 618-384-6130.  Sessions are $5 each or you can sign up for the whole month at a discounted rate of $20.
Listen in to Howard's entire presentation below…