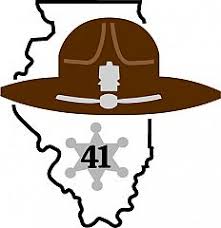 A number of House Republican's along with the FOP Trooper's Lodge #41 President, participated in a Wednesday morning press conference to discuss the negative impacts of HB3653 on law enforcement and public safety in Illinois.   The bill which passed in the waning moments of the recent Lame Duck session in Springfield would enable various police reforms throughout the state.
If signed by the governor, the house bill would make Illinois the first state in the nation to end cash bail, starting in 2023. It would also require all officers to wear body cameras by 2025, expand the process for revoking the certification of officers found to have engaged in misconduct, and enact many other measures, including creating statewide use-of-force standards and expanding required training.
In addition to problems with a number of things in the bill, many opponents had a problem with the process in which the bill was passed.
Around 4 a.m. Jan. 12, state Sen. Elgie Sims (D-Chicago) introduced the 764-page amendment that creates five new acts and amends more than a half-dozen more. It was approved in the senate on a vote of 32-23 vote, with five Democratic senators voting against it and three others not voting. The measure then headed to the House for concurrence, and with about an hour remaining before the end of the term, the bill passed on a vote of 60-50.
State Representative Patrick Windhorst (R-Metropolis), a former states attorney, was one of those speaking in the press conference and said the measure will make it much more difficult for law enforcement to do their jobs.
Windhorst also said the process by which the bill was passed resulted in a bill with conflicting definitions that are open to more than one interpretation.
In addition, the former prosecutor talked about the changes in cash bail, saying changes were made in cash bonding just 3 years ago and no study was ever done to see if those changes worked.  He believes a study should have at least been conducted to see if it was working before making more changes.