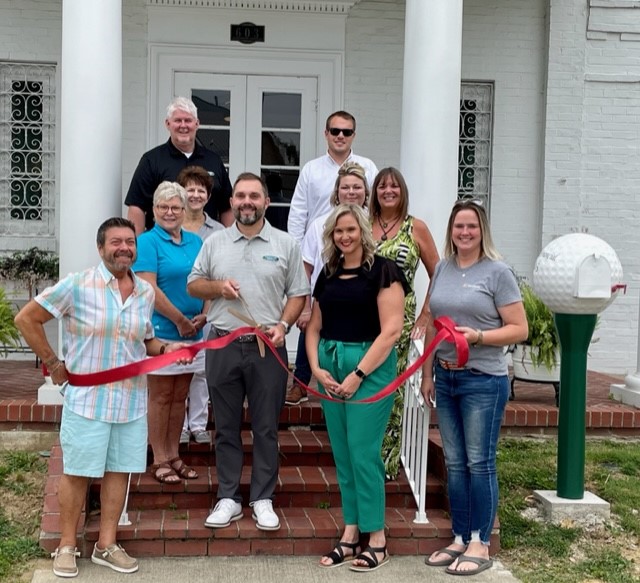 Another in a long line of new Carmi Chamber of Commerce members is celebrating with a ribbon cutting.  Kyle Hosick welcomed the community into his new digs at 603 West Main Street Friday.  The beautifully remodeled former home is now headquarters for Hosick and his staff.  While the office is new, Hosick is no stranger to helping folks through Country Financial.
"I was born and raised here in Carmi; graduated in 2003 and then went on to play golf at the University of Illinois.  I started with Country in 2009 and bounced around a little bit.  I spent some time down in Marion, IL and then the last ten years I spent down in Cartersville, Georgia in a leadership role.  At the beginning of this year, there was an opportunity to move back to our hometown and here we are."
In addition to insurance, Hosick also offers retirement planning through Country Financial.  There's always been something about the property that intrigues locals.  Hosick says he feels privileged to be able to make it his home office.
"I was very fortunate to be able to buy the house.  It was one of our old school teachers actually, David Killian; it was his family that lived here for the longest time. They just recently sold it about a year ago and I bought it from the people that bought it from them.  It wasn't for sale, I was just fortunate enough.  Shout out to Nikki Farney…she's done a great job in helping me get in touch with the people and negotiating.  They saw or were able to picture what I was wanting to do with it and here we are."
Hosick is welcoming folks in as well inviting everyone to "be nosy".  You can reach the office by calling 618-382-4677, find his office on social media and also online through his website available here (https://advisors.countryfinancial.com/usa/il/carmi/kyle-hosick).