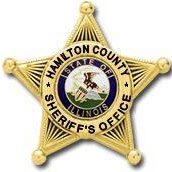 State's Attorney Justin Hood has provided an update on some Hamilton County cases that have flown under the radar over the last month.
Tammy Nelsen of Dahlgren was arrested Wednesday by Hamilton County Sheriff's authorities.  She's facing a charge of Criminal Damage to Property after she allegedly used a golf club to knock out windows of a residence she was renting.  The property owner wanted her arrested for the damage.
A McLeansboro man, Douglas Lowery is facing felony charges of Aggravated Domestic Battery and Domestic Battery.  McLeansboro Police handled the investigation.  Lowery is alleged to have choked and hit the victim, Kelly DePeugh.  Lowery is due in Hamilton County Court for a preliminary hearing on Thursday, May 20th.
A Harrisburg man will be in Hamilton County court on June 3rd facing charges of Possession of a Stolen Vehicle.  The Hamilton County Sheriff's Department picked up Jonathan Lightner after he allegedly stole a Caterpillar Skidsteer belonging to Michael Marvel from the Macedonia area.
Hood reminds listeners/readers that all those facing charges are presumed innocent until proven guilty in a court of law.