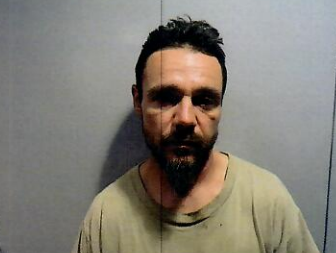 A traffic stop in Crossville resulted in the arrest of a Crossville man who was found to be in possession of meth. At around 9 p.m. on November 4th, Deputy Capeheart with the White County Sheriff's Department was on patrol when he observed a black motorcycle traveling on Hammill Street that did not have a working rear tail light. As the Deputy got closer to the motorcycle, he also noticed that there was no registration plate so a traffic stop was conducted. Capeheart made contact with the driver who identified himself as Stanley L Griffin 38 of Superior Avenue. When asked for license and registration he told the Deputy he didn't have either one. He told the Deputy that his license had been revoked, but did provide a state ID card.
Deputy Capeheart ran the info through dispatch who confirmed his driver's license have been revoked. Griffin was asked if he had any contraband on him and he replied no. While conducting a search on Griffin, Capeheart found a mutli-colored pipe used to smoke Cannabis along with an unused glass meth pipe. Also found during the search was a clear plastic bag containing 1.81 grams of Methamphetamine as well as a small container that was holding 4.75 grams of Meth. $753 in cash was also located in his wallet.  When asked if the Methamphetamine contained Fentanyl, Griffin replied no.
Griffin was arrested and booked in the White County Jail where he is being held without bond for Possession of Methamphetamine, Possession of a Controlled Substance and Possession of Drug Paraphernalia. Griffin was also cited for Operating a Vehicle without Insurance, Operating a Vehicle without Registration, Driving on a Revoked License and Operating a Vehicle with no Tail Lamp.
Griffin is scheduled to appear in court on November 28th at 10 a.m.