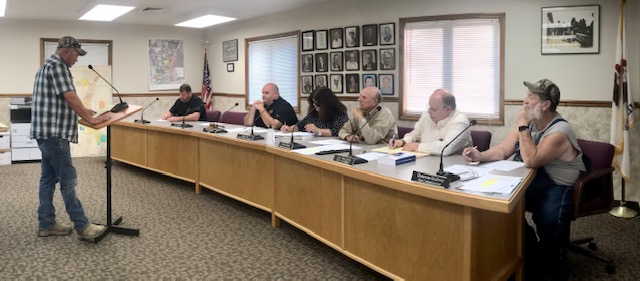 Before Grayville Police will be able to effectively keep vermin off the streets, they're going to have to get unwanted pests from their new department headquarters.  Grayville Council voted to move forward with a proposal from Orkin which should further the remediation of pests from their new digs.  Treasurer Sharon Walden explains…
The cost of the Orkin insulation and pest remediation plan is $3,955.  In other news, Grayville has assets of more than 2.6 million including more than $220,000 in cash on hand available for operations.  Treasurer Walden says she recently renewed a maturing CD for another 2 years with an interest rate of .70% through Fairfield National Bank.  Commissioner David Jordan says the city received oil income in the last two weeks of $295.77.
Council approved Ordinance #916 amending the Enterprise Zone Boundaries and also decided to move forward with the purchase and installation of Variable Flow Drives for the sewer plant.  Utility Manager Scott Irvine says the municipality has two currently; one is down and the other he describes as held together right now.  If it fails, he says the city would have to spend $250 per day on a pump rental and it would have to be borrowed for 2 to 3 weeks.  Council agreed they believe they can use American Rescue Plan monies for the purchase and agreed to move forward with the purchase.  Council also signed off on the sewer upgrade project utilizing ARPA dollars and also approved a pay estimate to Wiggs Excavating for the water line project.  Mayor Travis Thompson says paying the $158,557.47 will get Grayville in the next stage of being able to ask for more dollars to help with the project.
Council adjourned at 7:16pm.  Grayville Commissioners, Officials, and the Mayor will reconvene for their next meeting on August 9th.