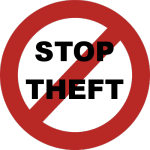 There were a couple incidents of the theft of fuel investigated by the Sheriff's Department.
On Friday, December 3rd, at about 11:30 Friday Morning, Mill Shoals Township Road Commissioner Ronald Carter reported that someone damaged a gasoline tank and stole gasoline and diesel from the Mill Shoals Township property at 215 East North Avenue in Springerton.
Carter said the damage had taken place recently and that a 3/8th inch hole had been drilled in the bottom center of the township's elevated gasoline tank.  About 50 gallons of gas had been emptied from the tank and about 100 gallons of off-highway diesel fuel had also been removed.
The gas tank belongs to Wabash Valley Services and Carter had contacted them about the issue.  A report was filed for criminal damage to governmental supported property.
Sunday at 9:40 AM, 36 year old James McKinney of Enfield phoned in a report of someone having stolen an unknown amount of diesel fuel from his property at 515 County Road 1825 North, believing it likely happened in the last few days.
McKinney said when he was on his property on December 1st, nothing had been tampered with, but when he went to the property Sunday he saw the hose on his diesel fuel tank was stretched away from the tank and noticed that some of the fuel had leaked out of the hose.  He said he didn't know how much fuel was in the tank, but it was now nearly empty.  McKinney said the tank had a 500 gallon capacity and held red-dyed off-highway diesel fuel.
The investigation is ongoing.