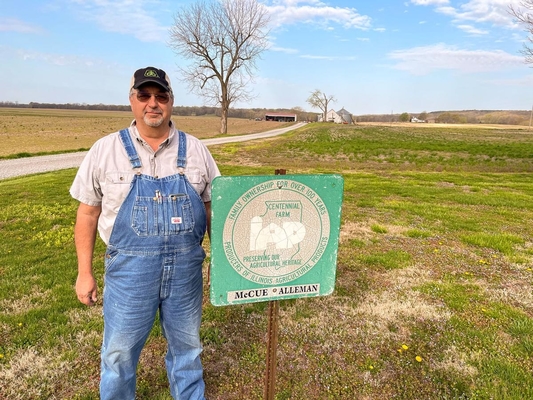 In the Dorsey Valley area of Gallatin County, a relationship between two families has lasted through 80 years of consecutive farmland leases.
Doug Miller of Junction is currently the third generation Miller renting from the third-generation descendant of Edgar McCue, Jim Alleman (Kankakee County). Miller recently signed his lease, making it the 80th year the Miller family has rented the ground from the McCue-Alleman family.
"I think it's all been built on honesty and trust," said Miller. "You do what you say you'll do, and you try hard. You just give it your best. When you have good landowners who have a love for the land and look out for what's best for the farm, these long relationships profit and benefit everyone."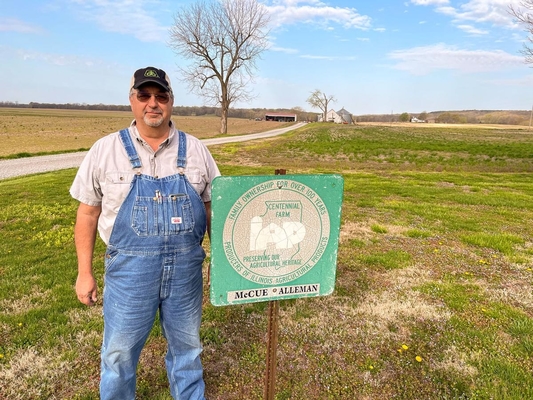 "We're practically like family," noted Alleman, the grandson of McCue. "We've always had a good relationship and we trust and respect each other."
The relationship began in the late 1930s, when Miller's grandfather, John Miller, became acquainted with McCue, who owned acreage in Saline and Gallatin counties.
At that time, John farmed and worked part-time putting together implements at International Harvester in Harrisburg. This led him to purchase a pull-type combine so he could do custom work "on the halves," meaning the harvested seed would be split between the harvester and the landowner.
This was at a time when most people didn't own a combine and corn was harvested by hand. Even a pull-type combine didn't have a hopper, so someone had to sit on the combine and fill bags as they went through the field.
Consequently, McCue hired John to harvest clover seed. John then designed a screen attachment to harvest clover and had the local blacksmith make it. He eventually sold the design to International Harvester and they gave him a two-row corn harvester in exchange. During the fall of 1940 after harvesting the clover, McCue asked John if he wanted to rent the land and their first lease was signed.
"It's been kind of unusual," said Miller. "It's something you don't see very often that land stays in the family this many years. And even we as the tenant farmers have stayed in the business and farmed for the same family. I think you have to attribute it to the fact that we farm for some very good landowners. Plus, there are some rich, fertile soils here in this valley that's made it possible to make a good living. And we've provided a good return to the landowners."
Likewise, for as long as Miller can remember, his family has also been COUNTRY Financial insurance holders.
"These long-standing relationships, that's what works here in agriculture, with landowner and tenant relationships as well as insurance. COUNTRY Financial has met our insurance needs for all these years," Miller added.
While Miller is the last of his family to farm full-time, he is still assisted on a seasonal basis by a cousin. Now, he is preparing to plant the 80th, and counting, crop planted by a Miller on the McCue-Alleman land.