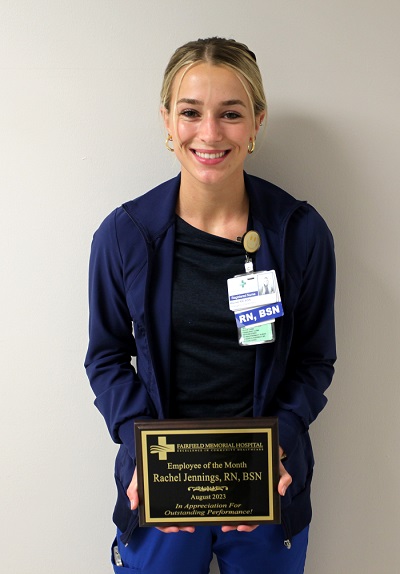 Fairfield Memorial Hospital honors an employee each month who has been nominated by their peers for providing extraordinary patient care and customer services within and outside of the Hospital.
Rachel Jennings, RN, BSN, who works as a Registered Nurse in the Emergency Department at Fairfield Memorial Hospital, was selected as the August 2023 Employee of the Month. Rachel has been with Fairfield Memorial Hospital since May of 2021. Rachel is hardworking and always provides great patient care. She is willing to help wherever she is needed.
"Rachel consistently goes above and beyond. She is always full of joy and brings positivity to those around her. She never hesitates to help her coworkers with any task, big or small. She is always willing to help cover open shifts and has been known to come in on her days off to help get the ER through a hectic time or even go on transfers with critical patients in the ambulance. She is always searching for more knowledge to help her take great care of patients, and she is great at sharing her knowledge with other nurses. Her fabulous attitude, eagerness, and team mentality make her such an asset to the ER." commented Jennifer Young, RN, Emergency Department Manager.
"Working in an Emergency Room can be very overwhelming and hectic at times. It takes a strong team to work together efficiently and effectively. Rachel possess these qualities as a nurse in the ER along with a positive, caring attitude. Rachel strives to learn and perfect her skills as a nurse and she adapts quickly to any given situation. We are proud to name Rachel as the FMH August 2023 Employee of the Month." stated FMH CEO Katherine Bunting-Williams.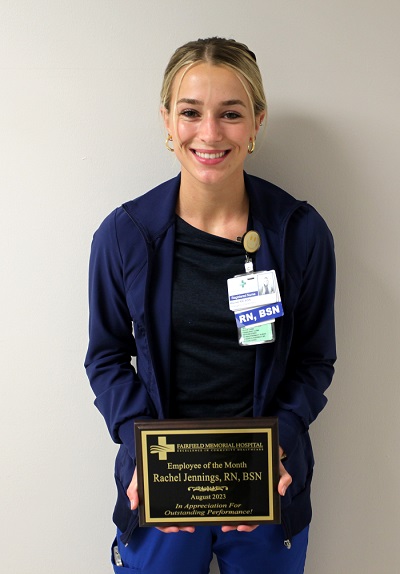 Pictured is Rachel Jennings, RN, BSN, FMH August 2023 Employee of the Month.