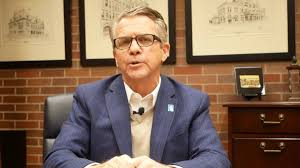 Evansville Mayor Lloyd Winnecke says he is looking to establish a Commission that would address food security issues in communities around the city.
At Mayor's request, the Evansville City Council will consider approving an ordinance to create the Commission on Food Security.
The Commission on Food Security – a 25-member group of representatives from food-related organizations that would also make recommendations to city officials and other community stakeholders – would coordinate services, funding, and programs related to food security.
Winnecke's administration says the proposed creation of the Commission on Food Security is the next step in the city's endeavors to ensure area residents have what they need in the midst of damage caused by the COVID-19 pandemic.
At the height of the pandemic during Indiana Governor Eric Holcomb's original Stay-at-Home Order, Schaefer says local organizations reported 8,000 meals requested in a single day.