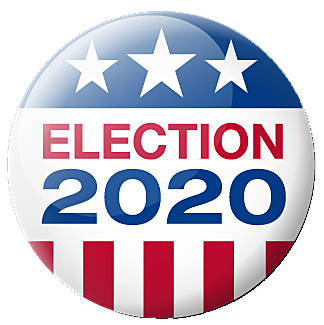 WHITE COUNTY
Huge turnout in White County November 3rd, 10,010 registered voters here, nearly 7,500 ballots cast (7,467) or 74.6%.
With all 19 precincts reporting, 5,734 or 80.85% of voters say no to what's been tabbed as the "fair tax." 1,358 White Countians did vote for it.
No surprise as White County voted for President Donald Trump in a rout with nearly 78% of the vote. Biden picked up 1,517 to Trump's 5,788.
For District 3 County Board in White County, Ken Usery will keep his seat at the table after getting 806 votes to Democrat Ray Mitchell's 392.
The other local race that gathered a lot of interest was the Public Safety Tax. In 2018, the initiative failed only slightly, though it was only for a .5% sales tax. This year, the county board approved putting a full 1% on the ballot and despite heavy campaigning, the measure has failed in grand fashion with 4,790 no votes (66.26%) to 2,439 yes votes (33.74%).
White County voter's echoed the sentiment of others around them by affirming they like the idea of separating from Cook County, Illinois and creating a new state. The yes votes outnumbered no votes by a 5,315 to 1,851 margin.
Lastly, the village of Crossville has voted down the prohibition of retail alcohol sales within their limits. The vote was close however, with only 10 votes separating the decision. 145 voters said no to prohibition of sale. 135 voters said yes.
HAMILTON COUNTY
With 16 out of 16 precincts reporting in Hamilton County, out of the county's 5,615 registered voters, 4,364 votes were cast for a voter turnout of 77.72%. There are still some provisional and mail in ballots that while turned in, may not be included in the totals.
Hamilton County overwhelmingly voted down the measure of the "fair tax" to the tune of 3, 290 no votes to 693 yes votes.
The Hamilton County Coroner's race, the incumbent Steve Bowling is the winner with 2,237 votes to Tad Ziehm's 1,945.
Another contested race, for County Board, Hamilton County voters were asked to choose up to 3. Newcomer Kelly Woodrow will join the board as the top vote getter with 2, 721 votes received. Chad May ran second with 2,520 votes received. John Chapman, another incumbent, will keep his seat at the table with 2,492 votes. Current Board Chair, Brad Miller will lose his seat on the County Board, only receiving 1,610 tallies.
May will only sit on the County Board for a short term longer if things go his way in the spring. May has announced he's running for Mayor in McLeansboro, that race in April of 2021. Other candidates who have picked up petitions include Sam Wilson, Anthony Holloman, Jesse Nevarez, and Dean Hart.
WAYNE COUNTY
With 27 of 27 precincts in, Wayne County results follow:
Of the 11,193 registered voters, 5,476 actually turned in ballots or just under 49%.
President Donald Trump took over 87.5% of the Wayne County vote with challenger and former Vice President Joe Biden garnering only a bit over 10% of the vote there.
Mary Miller wins the 15th Congressional District in Wayne County with almost 85% of the vote. Erika Weaver earned jus over 11% of the vote there.
Darren Bailey romps over Cynthia Given in the 55th Legislative District State Senate race with nearly 87% of the vote.
Adam Niemerg took down John Spencer in the race for 109th Representative District, Bailey's old seat. In Wayne County, Niemerg took almost 86% of the vote.
The County Coroner race goes to Republican Carrie Jo Dagg with close to 60% of the vote. Jimmy Taylor took 2,090 votes to Dagg's 3,258 tallies.
No surprises in Wayne County as 76% of voters agree with the proposition of separating from Cook County to create a new state.
Wayne City, by a margin of 188 to 185 voted to prohibit the sale of retail alcohol.
The same measure went down in Barnhill and Leech Township with voters agreeing to allow it.
Lastly, residents voted to annex Bedford Fire by an 82 to 27 vote.
EDWARDS COUNTY
In Edwards County, 76.49% of the total registered voters in went to the polls and voted in the general election.
President Trump received 2833 votes to 488 for Biden.
For U.S. Senator, Mark Curran defeated Richard Durbin 2,658 to Durbin's 556.
Mary Miller for congress the 15th District received 2,743 to Erica Weaver's 458 votes.
For State Senator in the 55th District, Darren Bailey 2,858 to Cynthia Givens 463.
In the Representative race,  Adam Neimerg received 2,817 votes to John Spencer's 458 votes.
Other election results of interest, David Overstreet received 2,766 votes in the 5th District Supreme Court Judges race compared to Judy Cates 502 votes.
Mark Bowie defeated Sarah Smith in the District 5 Appellate Court race, 2655 for Bowie and 541 votes for Smith.
The Constitutional Amendment question about the "fair tax," in Edwards County, that tax went down in flames, 2795 no votes to 395 yes votes.
Edwards County voters like the idea of separating from Cook County, Illinois and creating a new state. They overwhelmingly voted yes 2571 to 625 no votes.
These are unofficial vote totals. Most all votes have been counted in Edwards County, however, there could be three or four still out there to be mailed back.
COULD BE A WHILE BEFORE CLOSE RACES ARE CALLED
It could be a while before close races in Illinois are called. The State Board of Elections yesterday said there are nearly 600-thousand absentee ballots that have not yet been returned. As long as those votes are postmarked by yesterday, they will be counted. The state board says ballots that come-in as late as November 17th will be counted. Illinois vote doesn't have to be certified until December.
DICK DURBIN
Incumbent Democratic Illinois Senator Richard Durbin has been declared winner in the Illinois Senate race.  He defeated Republican challenger Mark Curran.  Durbin was first elected in 1996 and is minority whip of the Senate.  Curran is a former sheriff of Lake County and also a former Democrat.
JOE BIDEN
Joe Biden is the winner of the 2020 presidential election in Illinois.  Illinois has been a Democratic stronghold since 1992.  It gives Biden 20 electoral votes.