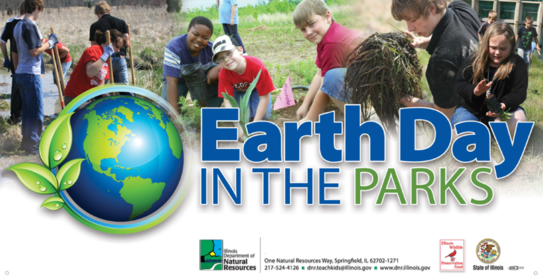 Events Set at Parks in April and May
SPRINGFIELD, Ill. – Hundreds of students and scouts will visit Illinois Department of Natural Resources (IDNR) state parks this spring to get their hands dirty and learn about natural areas stewardship as part of the annual Earth Day in the Parks event series.
Participants will help plant pollinator gardens and other native wildflowers and grasses, transplant tree seedlings, and assist with removing exotic plants to improve habitat.
"Earth Day in the Parks events encourage a sense of ownership among participants in improving natural habitat and helping wildlife in state parks near their homes and schools," said IDNR Director Colleen Callahan.  "These events are more than just field trips as the students, scouts and adults who participate can return to the parks to see that their projects are worthwhile."
All participants will follow health and safety protocols outlined by the Illinois Department of Public Health during the Earth Day in the Parks events.
School and other groups participating in 2021 Earth Day in the Parks events and event locations are listed below:
April 15
Henry N. Barkhausen Cache River Wetlands Center – IDNR Region V
8885 State Route 37 South
Cypress, IL 62923
618-657-2064
Participant: Southeastern Illinois College, Harrisburg
Time: 9:00 a.m. – 3:00 p.m.
Date: April 15, 2021
Matthiessen State Park – IDNR Region I
Routes 178 and 71
Utica, IL 61373
815-667-4726
Participant: Ladd Grade School, Ladd
Time: 9:00 a.m. – 11:00 a.m.
Date: April 15, 2021
April 16
Fort Massac State Park – IDNR Region V
1308 East 5th Street
Metropolis, IL 62960
618-524-4712
Participant: Lick Creek Elementary School, Buncombe
Time: 9:00 a.m. – 12:00 p.m.
Date: April 16, 2021
Tunnel Hill State Trail – IDNR Region V
State Highway 146 East
Vienna, IL 62995
618-657-2064
Participant: University of Illinois Extension Master Naturalists and Master Gardeners
Time: TBD. Contact Molie Oliver at [email protected] for details.
Date: April 16, 2021
April 17
Walnut Point State Park – IDNR Region III
2331 East County Road 370 North
Oakland, IL 61943
217-346-3336
Participant: Villa Grove Boy Scout Troop 50, Villa Grove
Time: 9:00 a.m. – 11:00 a.m.
Date: April 17, 2021
April 19
Red Hills State Park – IDNR Region V
3571 Ranger Lane
Sumner, IL 62466
618-936-2469
Participant: St. Joseph School, Olney
Time: 9:00 a.m. – 11:00 a.m.
Date: April 19, 2021
April 21
Lincoln Trail State Park – IDNR Region III
16985 East 1350th Road
Marshall, IL 62441
217-826-2222
School: Hutsonville High School, Hutsonville
School: Marshall High School, Marshall
Time: 9:00 a.m. – 11:00 a.m.
Date: April 21, 2021
April 22
Fox Ridge State Park – IDNR Region III
18175 State Park Road
Charleston, IL 61920
217-345-6416
School: Chrisman High School, Chrisman
Time: 10:00 a.m. – 12:00 p.m.
Date: April 22, 2021
Kickapoo State Recreation Area – IDNR Region III
10906 Kickapoo Park Road
Oakwood, IL 61858
217-442-4915
School: Armstrong High School, Armstrong
School: Georgetown Ridge Farm High School, Georgetown
Time: 9:15 a.m. – 11:15 a.m.
Date: April 22, 2021
Tunnel Hill State Trail – IDNR Region V
State Highway 146 East
Vienna, IL 62995
618-657-2064
Participant: University of Illinois Extension Master Naturalists and Master Gardeners
Time: TBD. Contact Molie Oliver at [email protected] for details. This event will be held along the trail in Tunnel Hill.
Date: April 22, 2021
April 23
Pere Marquette State Park – IDNR Region IV
13112 Visitor Center Lane
Grafton, IL 62037
618-786-3323
Participant: Sister Thea Bowman School, East St. Louis
Time: 9:00 a.m. – 1:00 p.m.
Date: April 23, 2021
Tunnel Hill State Trail – IDNR Region V
State Highway 146 East
Vienna, IL 62995
618-657-2064
Participant: University of Illinois Extension Master Naturalists and Master Gardeners
Time: TBD. Contact Molie Oliver at [email protected] for details. This event will be held along the trail in Tunnel Hill.
Date: April 23, 2021
April 24
Fox Ridge State Park – IDNR Region III
18175 State Park Road
Charleston, IL 61920
217-345-6416
Participant: Girl Scout Junior Troop 2205, Mattoon
Time: 10:00 a.m. – 12:00 p.m.
Date: April 24, 2021
April 29
Cache River State Natural Area – IDNR Region V
930 Sunflower Lane
Belknap IL 62908
618-657-2064
Participant: University of Illinois Extension Master Naturalists and Master Gardeners
Time: TBD. Contact Molie Oliver at [email protected] for details. This event will be held at the Faulkner Tract near West Vienna.
Date: April 29, 2021
May 13
Dickson Mounds Museum – IDNR Region IV
10956 North Dickson Mounds Road
Lewistown, IL 61542
309-547-3721
Participant: Astoria High School, Astoria
Time: 10:00 a.m. – 12:00 p.m.
Date: May 13, 2021
May 14
Dickson Mounds Museum – IDNR Region IV
10956 North Dickson Mounds Road
Lewistown, IL 61542
309-547-3721
Participant: VIT Elementary School, Table Grove
Time: 10:00 a.m. – 12:00 p.m.
Date: May 14, 2021
May 15
Illinois State Museum – Lockport Gallery – IDNR Region II
201 West 10th Street
Lockport, IL 60441
815-838-7400
Participant: There are many local participants including scouts, 4-H, Lockport Township High School ROTC and others. Contact John Lustig of Lockport Gallery at [email protected] for details.
Time: 8:30 a.m. – 12:00 p.m.
Date: May 15, 2021