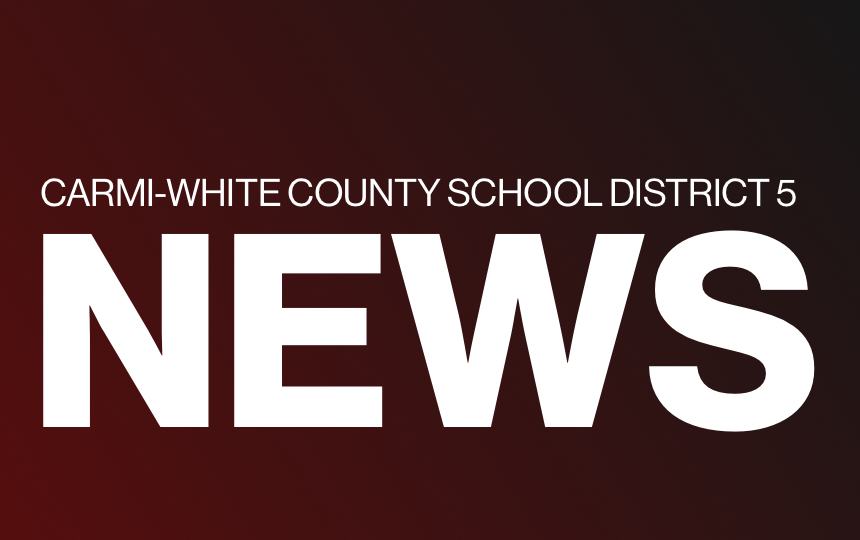 The Carmi-White County Unit 5 School Board met for its regular monthly meeting Monday night.  Scott Mareing was there and has this report.
It was the first regular meeting with Jerrod Newell as Superintendent, replacing the outgoing Brad Lee.
The main topic for discussion was the board's hiring practices, which were run down by Board President Kent "Pete" Fulkerson.  He said there is no discussion of hiring in open session, only in a closed meeting of the board members.  The administration, oversight and hiring are with the aid of Bushue Human Resources, school policy, and the district's attorney.  Board member duties are approved with the Superintendent's recommendation.  State law has precedence.  The prospective employee must be properly licensed.  No one can be excluded due to race, color, sex, creed, religion, sexual orientation, etc.  Any reports of complaints are to be made to the non-discrimination coordinator, which is Dr. Amy Dixon, or to Bart King.  The Superintendent makes hiring recommendations.  The person must complete a district application, and a letter of intent can be submitted.  Fulkerson stressed that he believes there is a good balance of male and female employees.
School Board member Kelly Ackerman, as he did at last month's special meeting, complained about the hiring practices.  He said he didn't understand why the application deadline was moved back without the board members being told.  Fulkerson said it was because one of the people applying wasn't going to be available, so he moved the date back so all the applicants can be interviewed at the same time.  Ackerman also said the board has made hirings with specific people in mind, that board members should not meet with applicants prior to meetings, and it's illegal to hire someone without certification.   Ackerman said he also believes that women are purposefully passed over for hiring.
Board member Thomas Scates said he wanted to thank Andy Acord, who resigned from the School Board after the June 30th special meeting, saying he appreciated all the work he did for the children of the district and for the board.
Approximately 30 people attend the meeting for public comments. Rochelle Hubele wanted to talk about the recent sex education standards filed by the state board of education.  She wanted to know if the district is going to opt out of them, or are school districts forced to comply with them.  Another woman said they should stand up and say no and not allow this to happen.
Superintendent Newell said they're guidelines as of now and there is nothing so far they have been forced to do, but he says the public needs to be told what's going on.  Dr. Amy Dixon said you can opt out of teaching sex-ed altogether.  Kathy Sands with the Villagers Voice said she believed that the district has opted out, which Fulkerson said is the case.
In the Superintendent's Report, Newell said the opening of school is less than one month away.  Online registration for students will be from July 25 to 29.  For parents/guardians who are unable to conduct online registration, in-person registration will be held on Wednesday, August 3rd from 10 AM to 2 PM.  August 12th will be a teacher institute and workday for staff.  The first day for students will be Monday, August 15th, and this is a half-day teacher in-service.  They will have a 50 minute early dismissal for students the remainder of the first week of school.
He thanked the summer custodial staff, who have been preparing the buildings for the start of the school year.
They are working on the preliminary budget for the 2023 fiscal Year and will have it ready for the August board meeting.
Newell thanked the district staff and administration for their work during Summer School.
He also said Lincoln and Jefferson Schools will hold a Summer School Bridge Program from August 1-10 for incoming students to provide support and help them transition into the new school year.
In other business, the board approved final action on adoption of a board policy and final action on changes in eight board policies, accepted a bid from Wabash Valley Service Company for gasoline and diesel fuel, and approved eight resignations.  They are: Michelle Burzynski as the Junior/Senior High School Family Consumer Science Teacher and Cynthia Martin as a High School Part-Time Special Education Teacher, both effective at the end of the 2021-22 school year; Alyse Jensik as a High School Special Education Individual Aide effective June 23, 2022; and the resignations of Cindy Coleman as the Junior High School Head Softball Coach; Will Knight as a Second Grade Teacher at Jefferson School, Junior High School Head Baseball Coach, High School Assistant Baseball Coach and High School Assistant Basketball Coach; Rachel Attebury as Junior High School Assistant Volleyball Coach, Scott Howard as High School Assistant Wrestling Coach, and Chris Lucas as High School Assistant Girls Basketball Coach, all effective immediately.
The board went into closed session at 7:49 PM to discuss personnel.