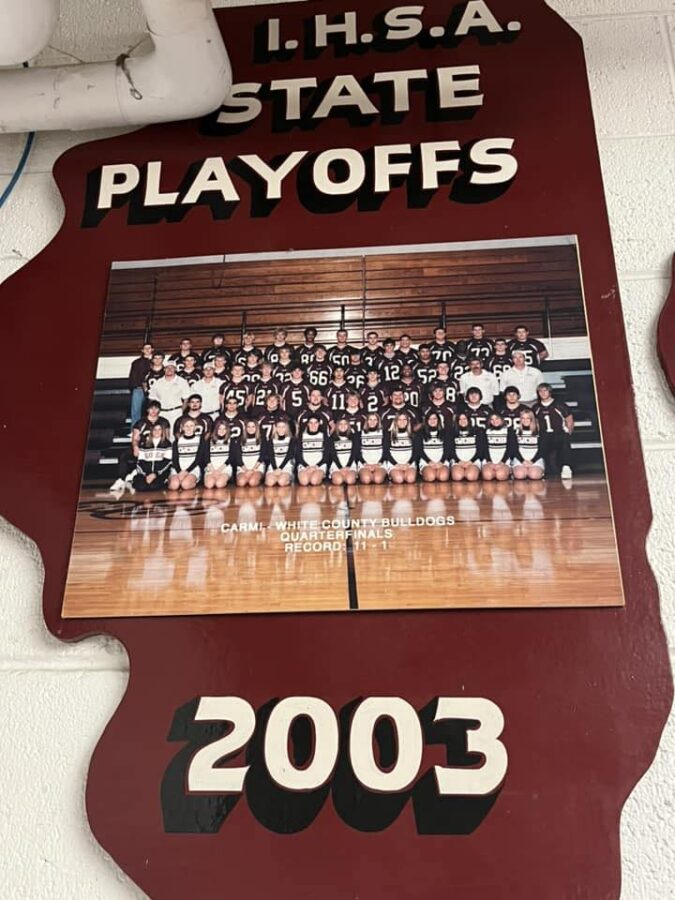 This Friday Night, the Carmi-White County Bulldogs will host the Hamilton County Foxes to kick off Week 2 of the IHSA Football Season.
At halftime of the game, CWCHS will honor the 20th Anniversary of one of the best teams in school history, the 2003 Bulldog football team.
The 2003 Bulldogs became the first team in school history to win an IHSA Playoff Game as they defeated Pinckneyville 22-7. The Bulldogs then defeated Carterville 19-14 to advance to the quarterfinals, where they were then defeated by DuQuoin, 19-14.
Since 2003, only one Bulldog team has made it past to the quarterfinals – the 2006 Bulldogs.
2003 was also the first season that the Bulldogs competed in the Black Diamond Conference. After 45 years in the North Egypt Conference, the Bulldogs quickly became a BDC powerhouse.
Carmi defeated Carterville 16-6 in Week 1 of 2003, and only one team would stay within single digits of the Bulldogs for the rest of the season, the Eldorado Eagles. Carmi outscored their conference foes by a combined 414-67.
Kurt Simon ended a 24 year playoff drought for CWC when he brought the Bulldogs to the postseason in 1999, and the 2003 Bulldogs were the first of many memorable teams coached by the Hall of Famer.
Fans who can't attend will be able to watch and listen to the game and the halftime ceremony on 97.3 FM WRUL and the WRUL Sports YouTube Channel.
A big thanks to Toby Brown for providing me with the information to write this story.