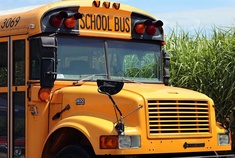 Carmi White County Schools start today. Local law enforcement are asking you to please do your part to ensure a safe school year for these students.
Use caution and be vigilant in and around schools. As the district returns under COVID restrictions traffic patterns for motorists will also be altered from years past due to different start and end times and changes in the areas of student drop off and pick up.
Also with some restaurants still only open to drive thru service, expect traffic to be congested around these restaurants during high school lunch periods.
Obey the 20 MPH speed zones, preferably well below this speed especially in congested areas and when people are visible.
Put the cell phones and electronic devices down. No electronic devices are to be used in school zones.
Watch for school buses and obey their stops, Do Not pass these stopped buses. Children can dart out in traffic very quickly and without warning.
CWC School District has again partnered with Carmi Police this year allowing for School Resource Officer Agee to be present in the schools every day. All Officers will be monitoring these school zones to ensure laws are obeyed and these children are safe.
Motorists will notice additional speed warnings and signage along Main St at the Junior/Senior High as well as Washington School.  These radar signs were provided by the Carmi Township Board and installed by the City of Carmi Personnel in an effort to slow motorists down for the safety of the students.
Again, please help to make sure these students are safe by doing your part as well.