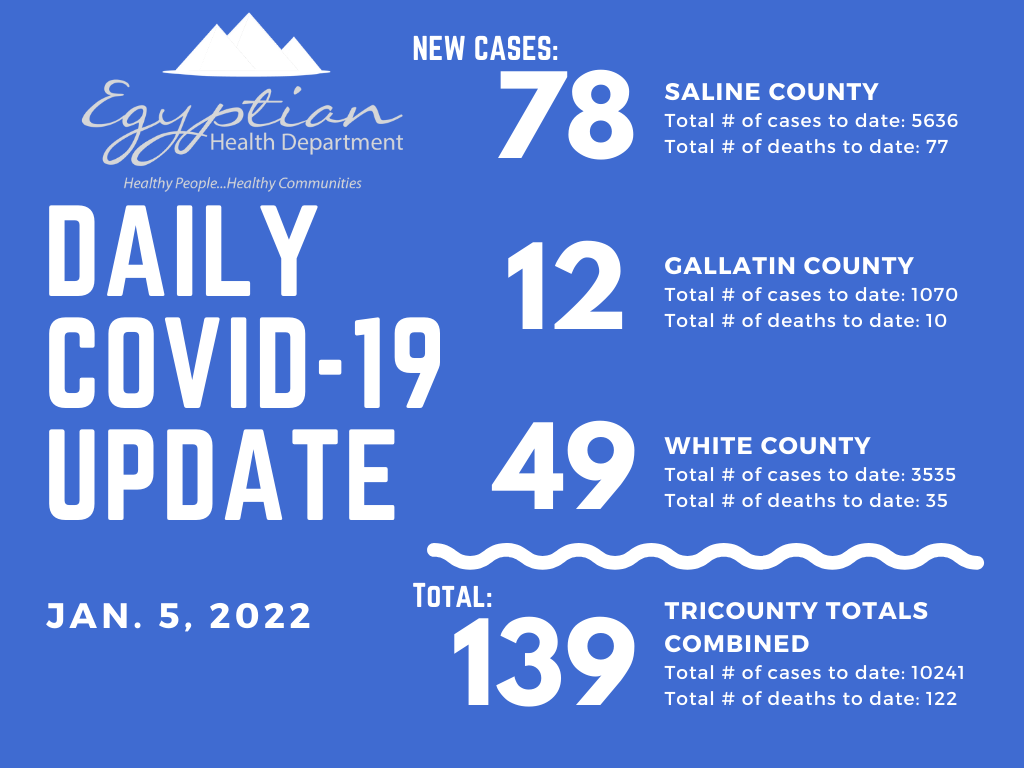 A Saline County resident is the latest to lose their life due directly to CoViD-19 or from complications surrounding the virus.  The latest numbers released today show the continued surge in cases throughout the tri-county area.  In Saline County, officials are reporting 78 new cases bringing the total there since the pandemic began to more than 5,636.  A dozen new Gallatin County positives have been reported and in White County, 49 fresh new cases were reported Thursday morning for a total fresh caseload of 139.  To date, that brings the totals to more than 10,240 including more than 120 deaths.
In one week, the Egyptian Health Department will cease distributing new positive cases.  Due to the increasing amount of self reported positive home tests and the recent changes in contact tracing, the state of Illinois' Surge Center will take over cases.  The local health department will continue to provide guidance and up to date information on CoViD-19.
Vaccinations and boosters are available in Carmi on Thursdays only from 8:30am – 3:30pm.  In Eldorado, Mondays and Wednesdays from 8:30am – 5:30pm, Tuesdays from 8:30am – 4:30pm, Thursdays 8:30am – 5:30pm, and Fridays 8:30am – 11:30am.