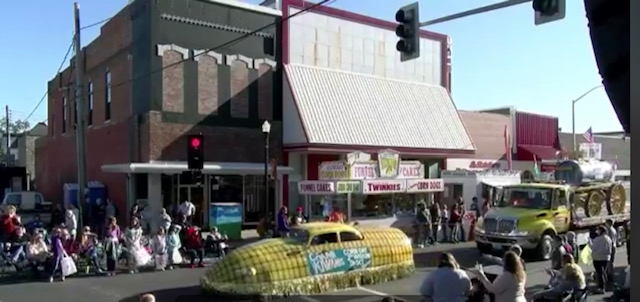 Another Corn Day is in the books.  The temperatures and weather largely cooperated and even a lack of rides couldn't dampen the spirits of young'uns as Kiwanis Club president Larissa Hays worked to create an abundance of kid centered fun throughout the festival.  From adding several large inflatables to a magic show and even a foam party, children's laughter was abundant throughout Carmi's largest event.
Thursday, Patrick and Tim Scates with assistance from community minded businesses and individuals created an elegant while familiar and comfortable setting with the 3rd White County Farm to Table event.  South Main Cross Street was blocked off with John Deere green tractors, the street was packed with attendees and even spilled over into Veterans Memorial Park where music and fellowship were enjoyed.
On Friday, the Carmi-White County Bulldogs ran roughshod over a talented, but outmatched Eldorado squad setting up a showdown with conference co-leaders Johnston City this coming Friday.  46-8 was the final.  Also Friday, the pageant took place with more than 40 kids participating on the Main Stage.  The 2022 Junior Miss pageant was won by Alexandria Vaupel.  Little Miss was won by Claire Legg.  Aurora Veatch took the top honors in the Tiny Miss competition and Tatim Collins claimed the Toddler Miss crown.  Baby Miss was won by Madison Lucas while Hank Bush took the top prize in the Baby Mr. Category.  The Friday night Cornhole Tournament was won by serious competitors out of Mt. Carmel, Xzavien Williams and Thomas Stringfellow battled back after losing their first game and were thereby forced to win two games in a row to take the championship.  The two pulled even by winning game 1 in the championship round 21-3 and after a rough start in game 2 were able to pull away with a 21-13 win for the trophy and $100 cash prize.  Second place went to David Rider and Ed Newman.  Travis and David Doerner took 3rd out of an 18 team tournament this year.
Corn Day 2022 started with temperatures in the upper 30's, some would argue perfect running weather.  The Guardian Center hosted their annual Cancy Corn Run to kick off the day at 8am.  By 10am, crowds were gathered downtown and the Pet/Kids Parade showed off some impressive use of this year's theme "May the Corn Be with You".  The Best Float award was won by Hadley Williams on the "Barbie Comes to Party at Corn Day" entry.  A landspeeder from Star Wars Episode 4 with 7 kids took 2nd place.  Char Char the flying pig took top honors in the Most Unusual Pet category with Max and Blue Rabbits coming in 2nd.  Gannon Boren took the Best Clown Costume prize while Prettiest Pet was won by Daniel and Elisha Kearns for their dog Louise.  Bryant and Adler O'Daniel's Grizzly the Corn dog came in 2nd.  Oren and Oliver Williams won the Best TV/Movie Character Costume contest by dressing as characters from The Little Rascals while the Lowers took 2nd dressing up as Ghost Busters.  Finally, Andrew Lamont Excavating won the Best Decorated Bicycle contest with their "Excavator Bikes".
The Car Show was enjoyed throughout the day with a great turnout of hot rods, both classic and modern.  Chili Cook Off winners for 2022 include Jeff Sturgal who defended his title as Taster's Choice.  The Carmi Elks Club won two prizes; one for Most Team Spirit and the other 1st place Judge's Honor.  2nd Place by Judge's Honor was taken by the Banterra Bank team.  3rd place was awarded to Fran Matheny with the White County HCE (Home Community Education).
There were museum tours of the Robinson Stewart House and L. Haas Store for history lovers, and Corn Tasting at The Ratcliffe Inn.  Olivia Gwaltney and Laney York entertained during the day from the Main Stage.  At noon, Joseph Gates and Samantha Stallings officially retired their crowns as King and Queen.  The new 2022 Corn Queen is Grace McCarty who also celebrated a birthday on Corn Day.  Breyton Sauls accompanied McCarty atop the float presiding over Corn Day as the new Corn King.  At 4pm, the parade took place and if you missed it, you can see an archived live stream on the WRUL 97.3 facebook page.
The annual homecoming and festival ended with performances from the Schelhorn Band at 7pm and 70's glam rock band Sweet closed out this year's Corn Day fun.
You can see the entire parade on our WRUL 97.3 facebook page:  https://fb.watch/g2HRR4mZrF/
You can see a selection of pictures from various events below: