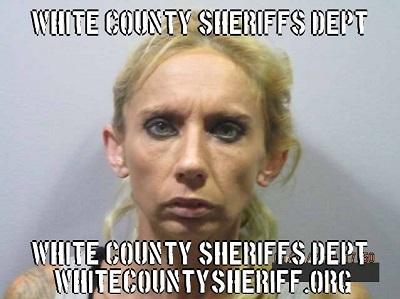 A Carmi, Illinois woman is back in custody following her arrest this week in Washington, Indiana.  Police there say they went to Wal Mart Tuesday afternoon in reference to two shoplifters.  During the investigation, officers determined 39-year old Kendra O'Brien of Carmi was providing them with a false name and was also found in possession of more than 100 grams of Crystal Meth.  Additionally, O'Brien was wanted on an outstanding felony warrant out of White County.  Officers say she also resisted arrest.  Once taken into custody, O'Brien was charged with dealing Methamphetamine, two counts of Battery on law enforcement, Resisting Law Enforcement, Obstruction of Justice, and Criminal Conversion.
The 39-year old Carmi woman was just sentenced a month ago on charges of unlawful delivery of methamphetamine and aggravated battery.  She was originally arrested in September of 2019 following an investigation by the Southern Illinois Drug Task Force.  In January of 2000, O'Brien entered a guilty plea to both charges and in July was sentenced to 5 years on the meth charge and 3 years on the aggravated battery charge.
At that time, O'Brien was given a furlough in order to get her affairs in order before surrendering to authorities.  She never showed up.  State's Attorney Denton Aud at the time of O'Brien's sentencing objected to the furlough.  As a result of her new arrest, Aud says she'll likely be facing escape charges and could face an additional 2 to 10 years on top of the 8 she's already facing for the original meth and aggravated battery sentences.
Our thanks to The Original Company's John Szink for providing details out of Indiana.