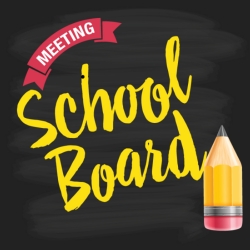 Submitted courtesy of Scott Mareing for TOC News
The board of education will hold a special meeting at 7 PM on Monday May 3rd to review election results, seat new members, elect officers, establish a regular meeting date and place, and adopt the policies of the previous board.
The FY20 School Maintenance Project Grant, which is to be used exclusively for maintenance or upkeep of buildings or structures for educational purposes, was received recently.  So far, $12,000 has been spent on updating and replacing some security lighting at the Junior/Senior High School.  Their architect is working to get bids to renovate the High School Science Lab this summer.
In the Superintendent's Report, Brad Lee said the Summer School Program for K to 12 students who qualify will be in session from June 1st to the 18th.  Students will attend from 8 AM to Noon five days a week.  Transportation will be provided along with breakfast and lunch.  Building administrators are notifying parents of students who qualify and finalizing faculty/staff who will work with the students.  The program will be funder with ESSERY funds.
The dates and times for end of the year events were announced.
89% of students have received face-to-face learning as of April 19th and 11% have received remote learning, up from 82% face-to-face this past December.
The playground equipment has been installed at Brownsville School and they are waiting for the mulch to arrive.  Everyone is invited to come down to the school to see the equipment.
The 7th and 8th grade Carmi girls basketball teams won the regionals last Saturday, which is as far as you can go this year due to the pandemic.
And the White County CEO presented the district with a check for $637 for the White County Schools Sack Lunch Program.  Half the money will go to Carmi-White County and Crossville schools with the other half going to the Norris City Schools.
Total revenues for the month of March were $956,822, including $52,100 from the 1% sales tax.
In other business, the board of education renewed its membership in the ISHA with a fee for the 2021-22 school year of $1,250; accepted the best bids on consumable supplies; and they decided that First Bank remain the permanent depository for school funds.
And board member Marcie Hoskins received a plaque for her four years of service on the CWC School Board.
Action following closed session at Monday night's Carmi White County Unit 5 School Board has been revealed.  Among the personnel changes approved in closed session, Robin Mick will be reassigned from 1st Grade Teacher to an Elementary Interventionist for Grades K-1 for the upcoming school year.  Kaylea Chappelle will Mick's position next year.  Chappelle currently serves as a part time PreK Teacher and part time Interventionist.  Tessa Hargrave will also be employed as a 1st Grade Teacher at Lincoln for the upcoming school year pending her certification.
Emily Whetstone will continue her role as a crossing guard, but she'll move to Lincoln Attendance Center in the upcoming year following reassignment of Tanya Littleton.
Additionally, Becky Conner will be hired as a Special Education Classroom Aide at Jefferson Attendance Center for the 2021/2022 school year.  She'll fill the vacancy created by the reassignment of Dusty Brinkley.  Joy McCully will be changing roles.  She's moving from Administrative Secretary at the Unit Office to a Special Education Classroom Aide at Jefferson.
Jean Nelson will be hired as a Special Education Individual Aide at Jefferson Attendance Center for the upcoming school year and finally, Jennifer O'Daniel is being reassigned from Special Education Teacher at Brownsville.  She'll make the move to Carmi White County Junior High with the same title.  She takes over the role held by the late Felicia Rumsey.