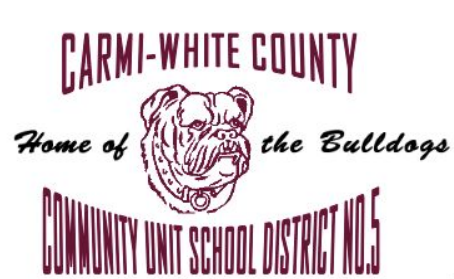 The Carmi-White County School Board met in special session Monday night at the Junior/Senior High School Cafeteria.  Scott Mareing provides the recap:
The board was called to order at 7 PM.  Barb Mitchell was named acting secretary.  There was a review of the election results from last month as certified by the County Clerk.  There were 1,188 total votes; 562 for Kelly Ackerman and 626 for Kent "Pete" Fulkerson.  Both were elected to four year terms.
The board then adjourned "sine die" at 7:01 PM.
Then the board was called to order by President Pro Tem Andy Acord, and Ackerman and Fulkerson each recited the official oath of office.
Officers for the next year were nominated and elected.  Pete Fulkerson was elected President, Andy Acord was elected Vice President and Barb Mitchell was elected secretary, all by unanimous vote.
The new board approved keeping the dates of the School Board meetings on the third Monday of each month at 7 PM, except for the December meeting, which falls on the first day of Christmas break, so it will be held on the second Monday; the January meeting will be held on the third Tuesday because of Martin Luther King's birthday; and the February meeting will be on the fourth Tuesday because of President's Day.  All meetings will be held at the Junior/Senior High School Cafeteria or the Jefferson Attendance Center new building.
They also approved adopting the policies of the previous board.
Finally, Fulkerson noted that this is National Teacher Appreciation Week and Tuesday is National Teacher Appreciation Day.
The board adjourned for the evening at 7:20 PM.
The next regularly scheduled meeting of the Carmi-White County School Board will be Monday, May 17th at 7 PM.