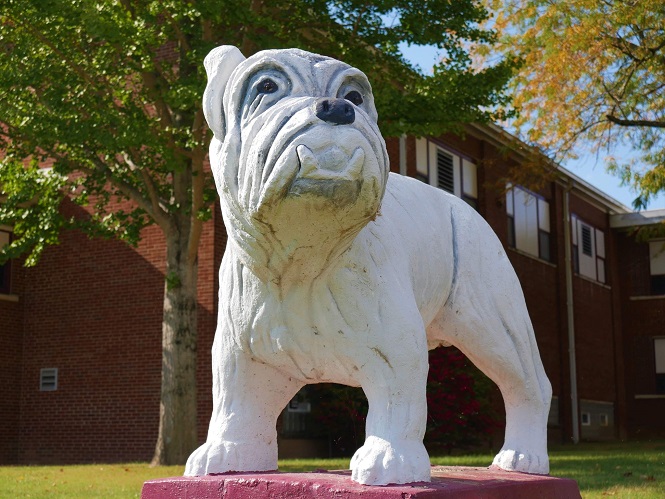 The Carmi-White County Boys and Girls golf match that was cancelled Monday has been rescheduled.  The Bulldogs will hit the links to host the Spartans on Friday, September 9th.  Tee off is scheduled for 4pm.
The Hamilton County Foxes JV Football team topped Carmi-White County Monday night by a 20-6 score.  Landon Driscoll took an 8 yard run into the end zone for the Bulldogs.  Andrew Dodgson, Caleb Seibers, and Kade Stockton each had multiple carries on the offensive side for CWC.  Kale Wiggins, Noah Pollard, Seibers, Stockton, and Dodgson led the team on defense.  The JV Bulldogs are set to host Vienna on Monday, September 6th at 6:15pm.
Jr High Baseball and Softball were supposed to be in action at Edwards County this afternoon.  Because of CoVid, those games were cancelled.  Coach Will Knight's baseball team was able to find a replacement and will welcome NCOE for a game this afternoon at 4:30pm.
The 7th and 8th Grade Jr Pro Football season is now in Week 3.  Carmi fell to Eldorado by a 44-0 score, dropping them to 0-3 on the year.  Hamilton County is now 1-0 in the conference after dropping Flora 44-26.  Christopher and Sesser are both 3-0.
This afternoon, Boys and Girls golf will be in action at Eldorado.  Tee off is scheduled for 4pm.  Coming up tomorrow, the Carmi White County freshman football team was scheduled to play at Fairfield.  Instead, they will now host West Frankfort at 6:15pm.  Also tomorrow, boys golf travels to Mt. Carmel.  Girls tennis is set to host Mt. Vernon.  Jr High Baseball and Softball will travel to Benton Thursday afternoon.  JV and Varsity Volleyball is also on the schedule for Thursday evening.  The Lady Bulldogs are set to make the trip to Gallatin County for a 6:15pm start.
Friday, the varsity football team makes the trek to West Frankfort for a matchup with the Redbirds.  Our coverage on 97.3 and WRUL.com begins around 6:45pm.  Roger Hobbs and Chris Myers will have the call.