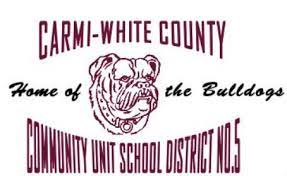 The Carmi White County School Board met Monday night.  Scott Mareing was there and has this report…
In the first order of business, Tom Scates was the only nominee for the position of Vice-President, and he was unanimously approved by the board members.  Scates will serve as board Vice-President for the remainder of the year.
Board President Kent "Pete" Fulkerson read a statement concerning the interview process to hire a new Superintendent.  He said the process to select and interview candidates was done properly, but there may have been some instances unknown to him that "may" have violated the Open Meetings Act.  Fulkerson, however, said he takes full responsibility for any mistakes made, and the attorneys have been informed and will look into the matter further.
Superintendent Jerrod Newell said the district should start receiving tax revenues from the state next month.
In the Superintendent's Report, Mr. Newell said Wednesday, October 19th, the schools will wear orange and participate in National Unity Day to unite with districts across the nation to prevent bullying during National Bullying Prevention Month.  Also, Red Ribbon Week activities will begin October 24th and run through October 28th.  Each day, buildings will have themes and activities.
Parent, Staff and Community Training Night is tonight (Tuesday) from 6 to 7:30 PM at 404 S.E.E.D. Station, located at 404 Fifth Street in Carmi.  Trauma-informed strategies will focus on relationship building.
Principal Appreciation Day will be celebrated on Friday, October 21st, honoring the work and commitment of principals, assistant principals, and deans in schools throughout Illinois.
The application for the FY 23 School Maintenance Project Grant is due November 18th, and if approved in the spring, districts can use federal grant funds to meet the local match requirement, for maintenance or upkeep of buildings for educational purposes.
The district is currently evaluating its current employee health insurance program using Bushue Human Resources, and the Insurance Committee will share updates when available.
Also, the 2022 Illinois School Report Cards will be released at the end of October, and Newell will provide an update regarding the report card and timeline.
Then the various school principals gave their Good News updates.
In his transportation update, Will Knight noted that there are two bus driver positions available.  The paperwork for the five new buses with air conditioning that were purchased, as well as the three to be traded-in, should be ready by the end of the week and the district should receive the new buses in the next couple of weeks.  The district now has 12 71-passenger buses with two extra ones in reserve, plus two 61-seaters equipped with wheelchair lifts.
A summary of FY22 state and federal grants were presented to board members to provide them with information regarding the district's state and federal program grants.  Totaling approximately $3.8 million, these grants provide for significant student opportunities and programs and represent a substantial portion of the district's total projected education fund revenues.
In other business, the board approved estimated expenses for school board members; approved final adoption of a change in board policy concerning administering medicines to students; passed the Memorandum of Understandings regarding payment of the 13th premium to Egyptian Trust; accepted the resignations of Emily Mahon as Special Education Classroom Aide at Lincoln School effective October 7th, Beth Conner as a Carmi-White County Junior High School Math Teacher effective January 1st of 2023, and Stacey Oliver as Head Cook at Brownsville School effective immediately; accepted the leave of absence requests from Ariana Watts beginning approximately December 20th and from Holly Lindsey beginning November 9th, both for twenty days at sub-pay deduction; and accepted $600 in donations to the Lincoln School and $335 to Brownsville School.
The board went into Closed session to discuss personnel at 7:50 PM.