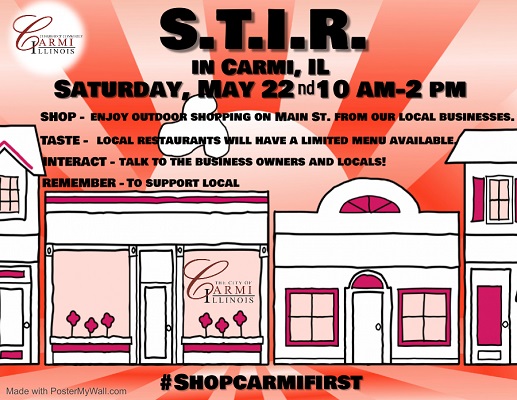 It's going to be a beautiful day Saturday and reason to get out and enjoy it.  Carmi Chamber of Commerce Executive Director was on Carmi Cast Thursday and talked to host Denton Weiss about today's STIR event.  It's the third iteration of the event.  The first was held in June of 2020 amid the pandemic.  Now that CoViD-19 is on it's way by the wayside, the acronym has evolved as well.
There will be several businesses and even some organizations and non-profits taking part.  You'll be able to grab something to eat and enjoy some entertainment as well and Northcott says there's even an incentive to come check out what some of Carmi has to offer.
It's from 10am – 2pm today in downtown Carmi.  Visit http://www.cityofcarmi.org for more on the Chamber.  You can also find them on social media by searching Carmi Chamber of Commerce.