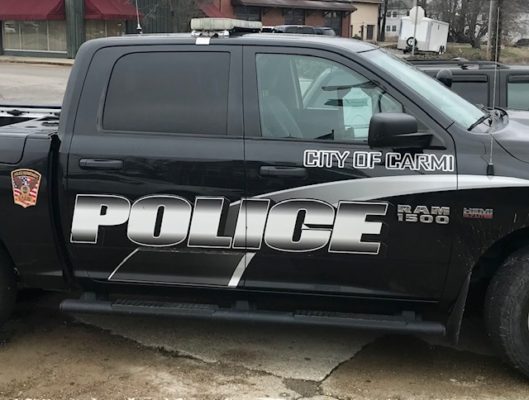 Carmi City Police were busy over the weekend beginning Friday with the arrest of Darryl J. Buckman, 19 of 207 Staley Street, Carmi, following a traffic stop.
Local officers observed Buckman driving a grey Ford Fusion on Main Street in Carmi. Officers knew Buckman did not have a valid driver's license. The traffic stop resulted in the arrest of Buckman for driving without a valid license. Buckman was transported to the City County Jail shortly after 2 Friday afternoon, where he posted $250 cash bond and was released from custody.
Local authorities also received a report of criminal damage to property around 11 Friday night. Marija C. Thomas, 606 B. West Sycamore Street field that report with Carmi police, who did not provide details of the damage.
Saturday afternoon, Carmi Police served a warrant on Jeffery R. Rawlinson, 22 of 313 Thompson, Street, Maunie, around 1 Saturday afternoon.  Rawlinson was at the Sheriff's Department reporting his vehicle as stolen when officers from the Carmi PD crossed the hall and confronted him about a warrant out for his arrest.
Rawlinson was taken into custody without incident and escorted to the City County Jail, where he was transferred into the care of the Jail Staff.
Rawlinson's warrant was on a case of aggravated assault with a deadly weapon.
Rawlinson posted $500 cash bond and was released from custody later Saturday afternoon.
Sunday evening, local police with assistance from the White County Sheriff's Department  arrested 30 year old Kevin Borah, 111 North Pine Street, Simms, Illinois on a failure to appear warrant out of Hamilton County. Borah, was arrested at a Marquerite Streeet residence and transported to the City County Jail by the arresting officer, where he remained in custody as of this Monday morning. Bond was set at $400 cash.