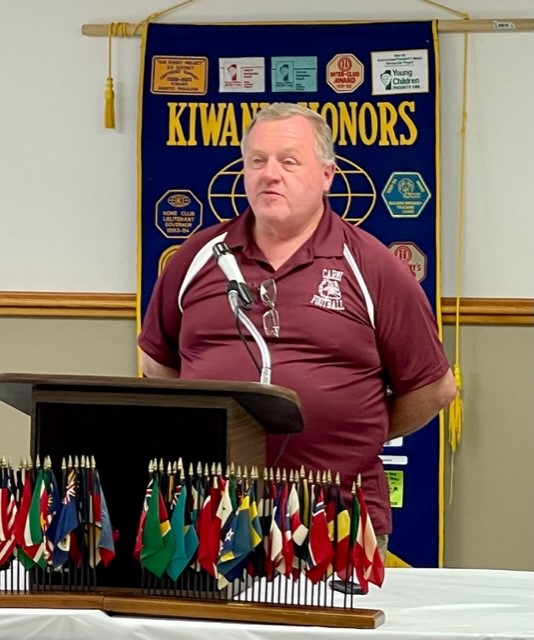 Entering his 29th year with the Carmi Jr Pro Football team, Spud Egbert says he still has gas in the tank.  He expects he's got exactly 14 years (until his grandkids get through the program) left in him.  Egbert says 501c3 non profit started in 1993 and he began a year later.  The program is completely self-sustaining with no financial support through the school system and a community of volunteers putting their time in to make the program viable.  A total of 60 youngsters from 5th – 8th grade played last year and sign ups are coming up in mid July.
While the program doesn't get money through the school, the education system is supportive.
"The school system does allow us to use the game field for our games and they allow us to use the practice field to practice on.  They also allow us to use the tackling dummies, shields, and sleds.  In some towns, the Jr Pro program isn't allowed to use the practice fields or equipment.  In some towns, they practice in parks or out in a field."
The season will run from August 19th through the end of September and will feature matchups with Vienna, Christopher, Edwards County, Hamilton County, Johnston City, Eldorado, Sesser-Valier and playoffs begin on October 5th.
"The top 4 teams at both levels will compete.  The last few years everybody's competed at both levels in different towns and this year the Black Diamond Jr Pro board decided we'd just do the top 4 and one host school.  We ran into issues with parents having players at both levels and them having to choose or have a hard time making it at multiple locations."
Signups for this year will be Saturday, July 15th from 8:30am – 11:30am, Tuesday, July 18th from 6pm – 8pm, Thursday, July 20th from 6pm – 8pm and then practice will begin on July 25th.  The first game is scheduled for August 19th.  Registration is $30 per player.  If you have questions or would like to help out, contact Egbert at 618-383-1933.