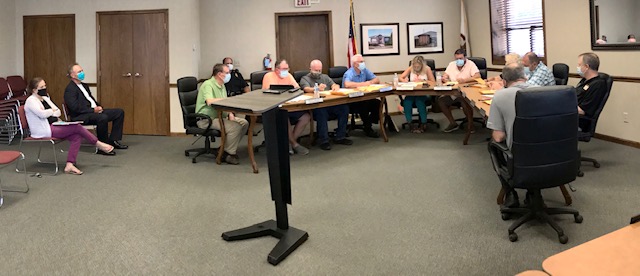 For just under half an hour Tuesday night, Carmi City Council discussed updating ordinances dealing with livestock and nuisances inside city limits.  The two ordinances on file, #918 and #1199 are seen as outdated or far too vague and enough complaints have come in to provide the foundation for analyzing changes or a new ordinance altogether.  City Attorney Greg Stewart was on hand to help council navigate their way through the discussion.
"I've had it brought to my attention that we have chickens, pigs, horses, all kinds of animals that are being brought into city limits or we're told will be brought in.  Again the purpose is to try to tighten things up so the residents of the city of Carmi have a better understanding of what is and what isn't allowed."
At face value, it seems it should be fairly straight forward and simple to handle, but this of course, is 2020.  Council members were given a draft of an ordinance to look over that might help provide modern solutions to modern problems.
"For example, there was a request that hit my desk recently about a miniature horse being brought into the city of Carmi.  That's a violation.  The person said, 'well, it's an emotional support animal.'  We invited that person to the meeting tonight.  There may be exceptions the city has to make in the enforcement provision if a person can show that they have a disability.  There may be certain circumstances where if a person proves to us they have a disability and the use of an animal assists them with that disability, whether it's a service animal or a support animal, we may have to decline prosecuting or enforcement of the ordinance, but there's a lot for the person to do to prove that they, through federal rules and laws, get a pass from the local ordinance." 
Already in town, residents have chickens, pigeons, and rabbits.  Those are knowns.  There could be others and some speculate without tighter restrictions, there could be more exotic wildlife or an excess of some of the animals.  Mayor Jeff Pollard ended up telling council members to take home the draft ordinance to read over and consider and they would debate it more at upcoming meetings.  Not before council member Steve Winkleman opined,
"Well I think most people live in town because they don't have to put up with stuff like that.  I know this isn't popular to say probably, but people maybe they outghta live in the country if they're gonna have animals.  This is a farming community, but we don't want…maybe we might say I don't mind a guy having some chickens as long as he's next to another guy but we don't want it beside us.  I think if we start allowing stuff like this, we're just open ourselves up."
The only other news out of Tuesday night's City Council meeting was the city opting to seek bids for the sale of excess property in the form of a 1997 Ford F800 370 V8 Dump Truck.  The vehicle only has 50,872 miles which led Winkleman to question why the city wanted to sell it.
Pollard:  "It'll cost us more to try to fix it."
Winkleman:   "Something bad wrong with it?"
Pollard:          "mmm hmm"
Cynthia Attebury, City Clerk:          "Smith said the brakes…the air brakes are out."
Pollard:          "They're out of it and there's some other stuff wrong with it.  It's out at the Park's Department."
Carmi City Council will reconvene at 5:30pm on Tuesday, August 4th.