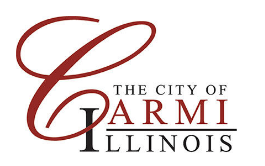 Carmi Council Introduced to New Police Officer
Carmi Police Chief Jason Carter formally introduced his newest law enforcement officers at the Carmi City Council meeting Tuesday evening.
Among them, Norris City native Matt Long will be headed to the police academy shortly and is expected to be back and on the force around Thanksgiving.  Additionally, Officer Joshua Moore is taking over the Sergeant position vacated by Brad Spence when the City of Carmi hired him for the Parks Department.  Moore's wife Kacy pinned her husband with his chevrons at the gathering.
Also at Tuesday night's meeting, several re appointments were approved to the Library Board.  Denton Aud, Diane Healy, John Stanley, and Jessica Williams were all approved to continue their service effective July 1st of this year through June 30th of 2024.
Carmi Council approved two resolutions; one executing an agreement with Brown and Roberts for ongoing water systems improvements and the other for an improvement to the Burrell's Wood Park Roadway Extension and Existing Roadways.
Council members got through all that business in just over 8 minutes.
City Electrical Engineer David Coston then spent the next 35 minutes addressing council to give updates on the Light Plant and substations along with a request to order breakers.  Council would grant that request giving him a maximum to spend of $50,000.
Mayor Jeff Pollard says the Street and Alley Department is currently doing concrete work at the dog park west of town.  He's hopeful, within the next month, enough progress will be made that a dedication ceremony can be held.
Carmi City Council is due to meet next on August 3rd.