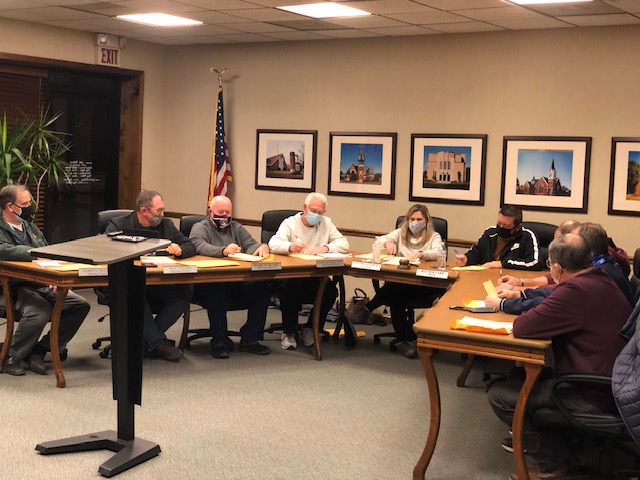 The Carmi City Council went for a new record in brevity Tuesday evening.  With Councilwoman Sheila Jo Headlee absent due to not being able to get out of work and only 2 action items on the agenda, there was more time spent on salutations prior to the meeting getting underway than on the clock business.
During the 4 minute and change council gathering, members unanimously approved the pay request to Mac's Fire and Safety Equipment in the amount of $25,764 with Mayor Pollard reminding us that an Illinois State Fire Marshal grant made that new equipment possible.  The city is purchasing an extractor, dryer, and cylinders.  Council also unanimously accepted the final pay request from Samron Midwest Contracting to the tune of $73,428.94.  That's the last payment needed to finish up the Industrial Drive project.
No present council men had anything from their standing committees and Mayor Pollard only remarked he was happy to be back meeting in Council Chambers rather than trying to conduct business over the phone.  In the spirit of changing things up, the mayor rearranged seating within council chambers and said he hoped making 2021 a better year was a simple as that.
The meeting adjourned just after 5:34pm.  The next regularly scheduled meeting of the Carmi Council will be Tuesday, January 19th at 5:30pm.