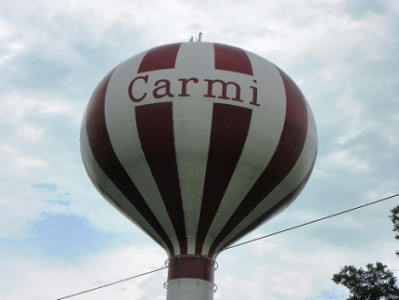 The Carmi City Council gathered mostly by teleconference Tuesday.  Jim Brown brought the council up to date on a change to the planned sewer project that had been approved for 1.5 million.  Brown says he visited with Mayor Jeff Pollard, Curt Hale and Jimmy Jordan within the last week and after the project had been approved, new information dealing with EPA requirements and easements was found that would complicate the plan.   Brown explains,
"That subdivision up there was platted with easements on the back sides of the lots of only 4 feet.  So, when there are two lots that butt up, there's only 8 foot of easement.  The majority of those easements have water, sewer, and gas on them.  The original plan was to correct some of the sewer issues up there, but the IEPA requirements right now require all sanitary sewers be 10 foot separated from potable water mains.  That creates quite a problem because there's actually encroachments on the existing easement and to require an additional easement would require us to acquire more property."
Brown went on to explain that there's an upcoming DECO application cycle and they have a relatively short time fuse on the project.  The project has now been revised to correcting some water lines and kicking the sewer line project down the line a year or perhaps two.  The area that will see the improvements will be the Hillsdale subdivision and 8th Street.  Pollard says if they went forward with both projects, it would've turned it into a 3 million plus dollar project and have ground torn up in too many places.  It also would've cost taxpayers more.  Pollard says,
"I was also pushed into a corner because we knew if we did the sewer side of things, we don't collect enough money on the sewer rates.  So that would've been an issue to where we would've had to raise rates like we did with the water for the EPA loan.  At the time we're in right now, that's not an option that I want to think about.  So it was more common sense to do the water and get it nailed down; taken care of and then not have to raise rates and keep on going down the road like we are right now.  And then, next year or the following year, approach the sewer part of it."
Pollard had some information he wanted to pass along some information to the community.
"It is very, very important and Cynthia and I are dealing with this again…you have to get a building permit before you do any construction.  We've got people building again and they're not getting the building permit and they're putting them in places that they're not supposed to be.  So it's very important to get that taken care of.  And also at this time, I'd like to remind everybody that you can also be ticketed for blowing grass into the street."
In May, council will return to their 1st and 3rd Tuesday meetings, though they will most likely continue to be held via teleconference.