Carmi Christmas Elves, Inc. and the Carmi Chamber of Commerce are teaming up a to bring you the first ever Merry & Bright Christmas Lights Home Decorating Contest!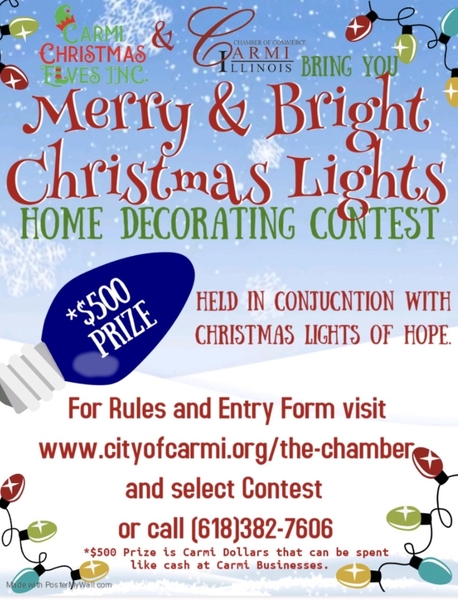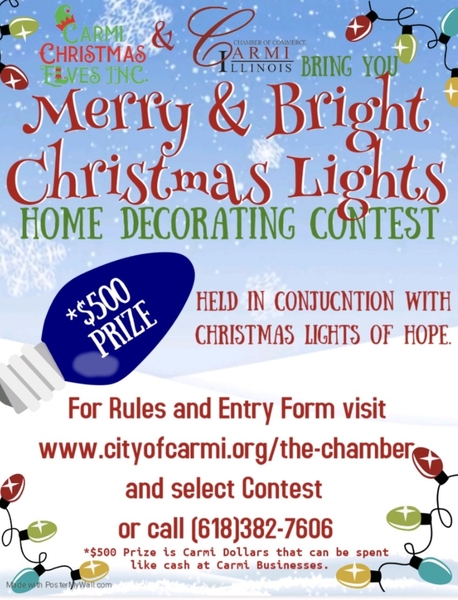 This contest will be in conjunction with Christmas Lights of Hope and will begin the weekend of December 4th. The Christmas Elves and Chamber invite homeowners, with Carmi addresses, to enter this friendly competition for the best decorated house in Carmi! People of all ages will delight as Carmi homes dazzle with their holiday lights adorning streets throughout the town. Amber Ackerman, VP, Carmi Christmas Elves- "We are excited to get the residents of Carmi involved in decorating our town! The Christmas Lights of Hope brought many people to town last year and this is only going to draw a bigger crowd if our entire town is decked out in lights!"


This is Carmi's opportunity to shine and the chance for one household to win the big prize of $500 worth of Carmi Dollars- that can be spent at any business in Carmi. There is no fee to enter. Contest Guidelines, Rules, and the Entry Form can be found by visiting the Contest section of the Chamber's website at www.cityofcarmi.org/the-chamber or at the Chamber office located at 225 E Main St, Carmi- hours are Monday-Thursday 9 am- 2pm. The Deadline to enter is November 20, 2020 so do not delay get those entry forms in today!
Lance Yearby, President, Carmi Christmas Elves "Looking at Christmas Lights makes family memories that last forever. So, we hope everyone will join and create memories with their families."