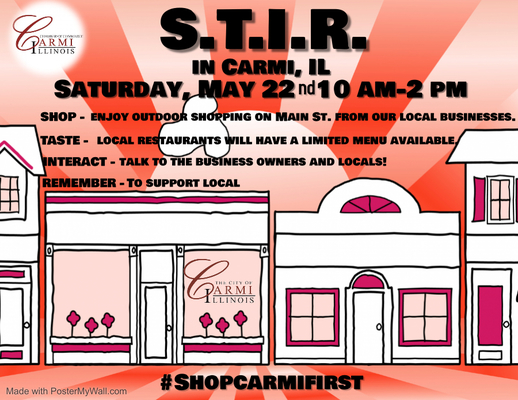 The Carmi Chamber of Commerce would like to invite local businesses and the public to join us on May 22nd in downtown Carmi for S.T.I.R.
While S.T.I.R. has a new meaning this time around – Shop, Taste, Interact, Remember to Support Local – it will still offer the same great shopping and atmosphere!
The Chamber would like to line downtown Main St. with gifts, jewelry, food, and sweet treats from all the local businesses!
This is just for brick-and-mortar stores, not direct sales companies. Businesses need not be a member of the Chamber to participate.
If your store is not located in the Carmi downtown area you will need to reserve a spot to set up on Main St. The Chamber will have designated spaces placed along the sidewalk for those of you without a store front on Main Street.