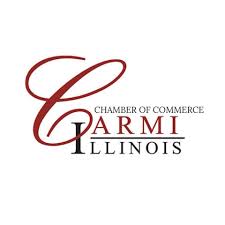 The Carmi Chamber of Commerce will hold what they're billing as a Virtual Dinner on Thursday, October 29th, in lieu of the traditional in-person event normally held on the first Monday of October. The dinner had originally been planned for October 5th.
"Difficult times bring new and exciting opportunities," said Lindsay Schoenheit president of the Carmi Chamber of Commerce. "COVID-19 has really pushed us to make changes. Despite everything, we are determined to bring the community this impactful virtual event in a safe manner!"
Chamber members will receive their invitations via email this year.  Invitations are expected to be delivered to members' inboxes by Friday, October 2nd.  Chamber members who do not have an email on file with the chamber office should expect their invitation by mail.  The 76th Annual Virtual Dinner will be able to be accessed by a link that will be sent to the email provided on the RSVP and the link will also be posted via the Chamber's Facebook page.
New Chamber Executive Director Kelly Northcott says the event will include typical features: the Mayor's State of the City Address,  the announcements of the 2020 Citizen of the Year and 2020 Business of the Year, and also a speech from a guest speaker- this year, Scott Rice.  The White County CEO Class of 2021 will also be introduced.
Members will be given the opportunity, through their invitation, to purchase a dinner, provided by Yesterday's.  The dinner will be available for members to pick up on the evening of Thursday, October 29th, between 5 pm – 6:30 pm at the First Christian Church.  There will be no need to exit vehicles as the dinner will be brought out.
For additional information, contact the Carmi Chamber office via telephone at 618-382-7606.