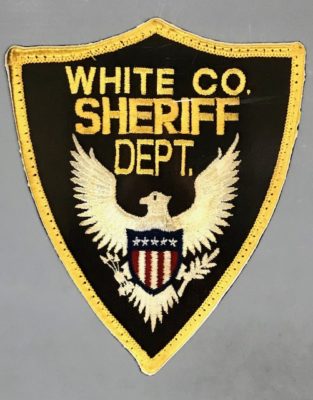 The White County Sheriff's Office a call from Susan Roberts of Norris City, Thursday afternoon, of a male sitting in a white truck in her driveway.
As Officer Lucas responded, Dispatch informed him that the driver had just struck a vehicle and drove through the Roberts' yard. The driver then headed north on County Road 400 East. Roberts said the man pulled into the driveway and then into her yard directly in front of the house and sat there for several minutes until her boyfriend Phillip L. Todd approached the vehicle. The driver just sat with his arms crossed looking forward, as Todd knocked on the driver's side window and tried to open the door.
A short time later the driver, who was later identified as 41 year old Jason L. Cannon of Norris City, tried to pull forward in the yard and started spinning his tires. He then put the truck in reverse and backed into Roberts' Chevy Equinox, damaging the driver's side rear quarter panel and bumper area. He then drove through the yard nearly striking a tree and drove down the hill to the neighbor's driveway before heading north.
At approximately 5:13 p.m., Deputy Weiss was dispatched to 400 East at County Road 835 North on a report of a suspicious male in a black hoodie walking in the roadway. As Deputy Weiss approached the subject, Jason Cannon told him his truck got stuck. Deputy Weiss told Cannon that a complaint had been signed and he was going to be arrested for Criminal Damage to Property and given a citation for Leaving the Scene of an Accident. Officer Lucas transported Cannon to the White County Jail. Deputy Weiss located Cannon's truck approximately 300 yards into a grass field on the property of Megan Campbell. S and E was called to tow the vehicle. Campbell was notified of the incident and she signed a complaint for Criminal Damage to Property.