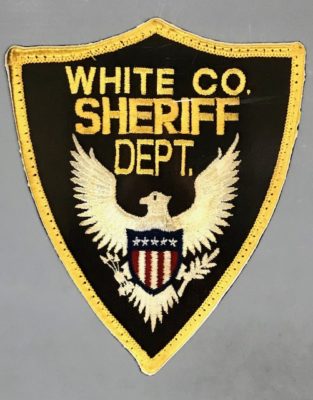 Monday turned out to be a busy day for the White County Sheriff's Department as Sheriff Randy Graves and Sgt. Craig Poole, along with Deputy Scott Cantrell were all busy with reports.
Sheriff Graves responded to an oil lease near Rising Sun, after the owner of Brookston Oil Company, Richard Kingston, reported a burned vehicle on the Ackerman lease.
Graves met with employees Jeff Phillips and John Garrett who advised authorities the vehicle was on the lease Sunday morning, but the vehicle, a purple Ford Mustang appeared to be stuck. The workers assumed someone would be coming for the vehicle, but arriving at the lease Monday morning, they discovered the Mustang was completely destroyed by fire.
Sheriff Graves spoke with Detective Shannon Deuel of the Saline County Sheriff's Department in reference to the vehicle, discovering it belonged to Brenda Winter, 61 of Harrisburg, who had reported the car stolen to the Saline County Sheriff's department.
Cherry Street towed the vehicle from the scene.
Monday afternoon, Sgt. Craig Poole responded to two separate reports of theft in Crossvillle.
Teresa Darnold, 62 of 202 Seventh Street, Carmi, reported the theft of several items taken from 708 South Cross Street, Crossville.
Darnold explained she has power of attorney for Amber M. Walkenbach, 36, Crossville, who is currently incarcerated at the City County Jail in Carmi. Darnolds explained Walkenbach's belongings had been at that address prior to her arrest, but the items are now missing. She noted people are now living at the residence.
A 55 inch Samsung tv, valued at $1,200, a 43 inch Firestick Tv, valued at $500, a 32 inch tv, valued at $200, another 32 inch tv, valued at $250, along with a table and six chairs ,and a red dirt bike were reported missing. The table and chairs were valued at six to seven hundred dollars, while the dirt bike, with a 250 cc motor was valued at $1,000.
Poole took that report around 1 Monday afternoon.
Just before 3 p.m. Monday, Sgt. Poole received a report of theft under $500 from Patti J. Hyatt, 59, of 406 W. Main Street, Crossville.
Hyatt told Poole, she believes someone has been taking her mail from her residence's mailbox. It was noted pieces of Hyatt's mail had been found on the ground down the street from her home. She said she thinks someone is taking her mail and then throwing it on the ground in other places.
Deputy Cantrell was covering a reckless driver incident on Summit Street, here in Carmi, when he observed Tiffany A. Downs, 31, rural Carmi, walking down the street.
Knowing there was an active warrant on Downs for criminal trespass to a residence, Cantrell made contact with Downs, advising her of the warrant and took her into custody.
After transport to the City County Jail, Downs posted $250 cash bond and was released from custody. She was also required to pay a booking fee.