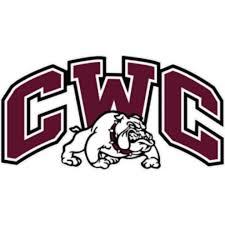 The Carmi White County Bulldogs football season came to a close Friday night in McLeansboro, the final blow a 28 – 6 defeat at the hands of the Hamilton County Foxes.  It was a rare losing season for Coach Kurt Simon as the team finished winless in 6 tries.  It was all green and white on their Homecoming night at Carl Mauck Field.  Quarterback Grady Lueke completed 14 of 18 passes, the Foxes outgained the Bulldogs 116 to 45 through the air and added 42 rushes on the night, good enough for 147 yards on the ground.  The Bulldogs picked up 105 yards rushing on 28 carries.  The Bulldogs fumbled twice, losing both of them.
About the only bright spot on the night for CWC was a second quarter touchdown pass.  Quarterback Brody Atteberry slung a 29 yard touchdown pass to Quentin Sutton toward the end of the first half.  That made the game 12 – 6 at the time and it looked the Bulldogs might make a game of it.  Any momentum was quashed however when Arion Allen picked up a fumble and ran it in the endzone for the Foxes.  The score and 2 point conversion made it 20-8.
On the season, the Bulldogs finished with a negative 6 turnover margin giving the ball up 10 times and recording 4 takeaways.  Drax Aud led the defense for Carmi White County.  He accounted for 12 tackles on the night, 9 of them solo efforts.  Tyler Goemaat also had a good defensive effort, picking up 6 tackles, two of them driving the Foxes backwards.  Isaac King only had 3 tackles but he made them count 2 of them for negative yardage.Goemaat, Kit Harris, and Gavin Peyton all had sacks for the Bulldogs.
Game Stats below courtesy of Toby Brown:
Hamilton County 28, Carmi-White Co. 6
Date: Friday, Apr. 23, 2021; Location: McLeansboro
RUSHING
CWC                                                           Hamilton Co.
Quentin Sutton 10-37                          Darian Pike 17-84
Isaac King 9-31                                     Jaxson Comstock 13-59
Drax Aud 5-29                                      Hunter Rhodes 5-8
Kit Harris 2-22                                     Wyatt Richards 1-5
Brody Atteberry 2-(-14)                       Grady Lueke 6-(-9)
—————– ——————
TOTAL: 28-105 42-147
PASSING
Brody Atteberry 4-12-45 Grady Lueke 14-18-116
(1 TD, 1 INT) (1 TD, 0 INTs)
RECEIVING
Quentin Sutton 2-27 Aden Futrell 5-55
Tyler Goemaat 1-11 Layton Karcher 5-52
Ty Stubblefield 1-7 Brody Barker 1-12
Kaleb Middendorf 1-7
Jaxson Comstock 1-(-5)
Hunter Rhodes 1-(-5)
————————- ———————————-
TOTAL: 4-45 14-116
TOTAL OFFENSE
150 263
KICKOFFS
Tyler Goemaat 2-72 Kaleb Middendorf 5-199
KICKOFF RETURNS
Isaac King 2-15 Arion Allen 1-21
Quentin Sutton 2-11 Isaac Middendorf 1-14
Kit Harris 1-11
——————– ——————
TOTAL: 5-37 2-35
PUNTS
Tyler Goemaat 2-58 Keith Luffman 1-30
PUNT RETURNS
Ty Stubblefield 1-10 Layton Karcher 1-23
INTERCEPTION
None Kaleb Middendorf 1-0
FUMBLE RETURN
None Arion Allen 1-28
Kaleb Middendorf 1-0
—————————- ———————–
TOTAL: None 2-28
TOTAL TURNOVERS
3 0
TURNOVER MARGIN
Game: -3
Season: -6 (4 Takeaways, 10 Giveaways)
FIRST DOWNS
9 (7 rush, 2 pass, 0 penalty) 19 (14 rush, 5 pass, 0 penalty)
PENALTY
2-10 6-45
TIME OF POSSESSION
19:01 28:59
THIRD DOWN CONVERSIONS
4-10 4-12
FOURTH DOWN CONVERSIONS
1-2 3-5
TACKLES
FOR YARDS
TOT SOLO ASST LOSS LOST
Drax Aud 12 9 3 1 1
Blake Pollard 8 5 3 0 0
Bryson Moore 8 5 3 0 0
Kit Harris 7 6 1 1 7
Tyler Goemaat 6 5 1 2 9
Titus Wood 6 3 3 0 0
Ty Stubblefield 5 3 2 0 0
Gavin Peyton 4 3 1 1 9
Brody Atteberry 4 3 1 0 0
Isaac King 3 3 0 2 10
Warren Legg 1 1 0 0 0
Caleb Seibers 1 1 0 0 0
Ethan Whetstone 1 1 0 0 0
Cody Nausley 1 1 0 0 0
Sacks: Kit Harris, Tyler Goemaat, Gavin Peyton
1 2 3 4 F
(0-6) Carmi-White Co. 0 6 0 0 6
(2-4) Hamilton Co. 6 6 16 0 28
SCORING PLAYS
First Quarter
HC – Darian Pike 1 run (pass failed), 6:10
Second Quarter
HC – Jaxson Comstock 4 run (pass failed), 9:10
CWC – Quentin Sutton 29 catch from Brody Atteberry (run failed), 2:46
Third Quarter
HC – Arion Allen 28 fumble return (Grady Lueke run), 10:33
HC – Kaleb Middendorf 7 catch from Lueke (Middendorf catch from Lueke), :37
OFFICALS:
Referee: Perry Clancy
Umpire: Bob Renn
Linesman: Kelly Bennett
Line judge: Josh Hayden
Back judge: Sandy Burnette