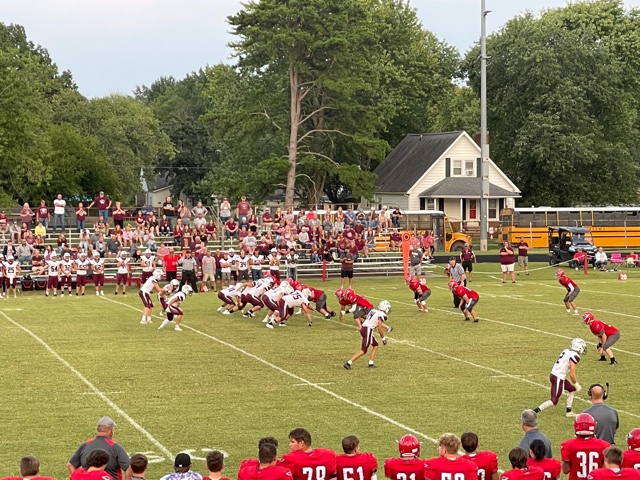 Johnson Field in West Frankfort turned into a crime scene Friday night after the Carmi White County Bulldogs robbed the Redbirds and ran away with a 46-13 statement win.  Just like the week prior, it appeared early the Bulldogs might be in trouble after West Frankfort took a pick six to the endzone on the Dogs first possession.  It proved to be no hill for CWC's highsteppers however as the Bulldogs backfield ran roughshod in historic fashion the remainder of the game.  By the end of the first quarter, Carmi White County had matched their entire point total from last week leading 16-6.  The visitors then added a pair of touchdowns in the 2nd and 3rd quarter and dominated both sides of the ball the remaining 36 minutes.
It was a historic outing for Coach Simon's most accomplished junior as well.  Isaac King set a new school record for the most yards in a quarter with 150 in the 1st on 12 attempts.  The previous record was 142 yards, set by Logan Rogers on 8/27/10 at Johnston City on 5 attempts.  Ironically, Johnston City's coach at the time was Brian Beery, who now coaches West Frankfort.  Additionally, King's 285 yards for the game was the 4th best single game rushing effort in Bulldog history behind only Logan Rogers (343 at Elverado in '09 and 328 at Vienna in '10) and Dylan Rankin (297 vs CZR in '12).
The Bulldogs racked up 23 first downs on the night and combined for 436 rushing yards on the night while the defense only gave up 69 rushing yards.  Coach Simon says his goal is for the team to become more balanced and they've got some work to do on that front as QB Brody Atteberry only completed one pass on 8 attempts.  They're close though as several of those attempts were on Bulldog receiver fingertips.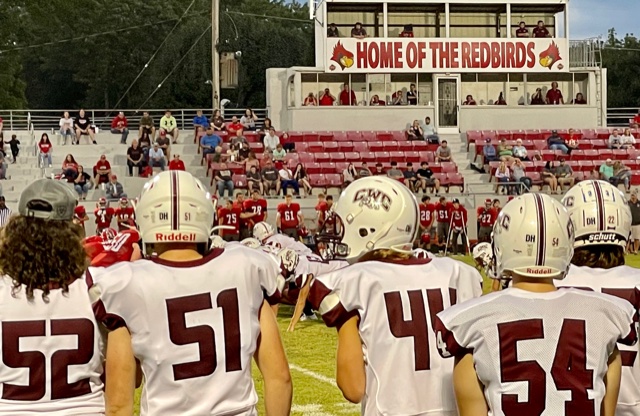 West Frankfort's troubles holding onto possession bled over from week one as they coughed it up 3 times losing 2 of 3 fumbles and suffering an interception as well.  The Bulldogs meanwhile maintained possession outside of the opening drive INT and they were strong once again on 3rd and 4th down conversions.  The Bulldogs were 4 of 8 on 3rd down and 1 for 2 on 4th down attempts.
The time of possession battle was closer than it felt, but the Bulldogs running game helped them be in possession for 26:07 compared to Frankfort's 21:53.
Now 2-0 on the season, Carmi White County will return home to host Sesser-Valier on Friday, September 10th at Harrington-Jeffries Sports Complex.  The Red Devils fell 34-20 Friday night to a Fairfield team that's expected to be at the top of the Black Diamond Conference standings at the end of the year.
Special thanks to Toby Brown for providing stats, historic notes in the above story and box score (below):
1 2 3 4 F
(2-0) Carmi-White County 16 14 16 0 46
(0-2) West Frankfort 6 0 0 7 13
SCORING PLAYS
First Quarter
WF – Hunter Ragan 41 interception return (kick failed), 10:12
CWC – Draxtyn Aud 13 run (Brody Atteberry run), 7:55
CWC – Isaac King 16 run (Aud run), :34
Second Quarter
CWC – King 37 run (run failed), 11:46
CWC – King 16 run (Atteberry run), 8:46
Third Quarter
CWC – Kit Harris 20 run (Tyler Goemaat catch from Atteberry), 5:44
CWC – Harris 37 run (Aud run), 1:22
Fourth Quarter
WF – Thomas Claycamp 37 run (Lucas Mosqueda kick), 1:38
CWC WF
23 First Downs 6
46-436 Rushing 27-69
1-8-1 Pass-Att-INT 3-7-1
33 Passing Yards 10
469 Total Offense 79
0-0 Fumbles-Lost 3-2
1 Turnovers 3
4-8 3rd Down Conv. 0-7
1-2 4th Down Conv. 1-2
7-45 Penalty 4-16.5
2-68-34.0 Punts 5-176-35.2
26:07 Possession 21:53
RUSHING (Att-Yds-TD)
CWC – Isaac King 25-285-3, Kit Harris 9-114-2, Draxtyn Aud 5-21-1, Warren Legg 3-21-0, Layne Gwaltney 2-6-0, Andrew Dodgson 1-(-5)-0, Brody Atteberry 1-(-6)-0. WF – Thomas Claycamp 13-37-1, Jax Scoville 4-13-0, Hunter Stitely 6-12-0, Gavin Mann 2-8-0, Gabriel Sweet 2-(-1)-0.
PASSING (Att-Comp-INT-Yds-TD)
CWC – Brody Atteberry 1-8-1-33-0. WF – Thomas Claycamp 3-7-1-10-0.
RECEIVING (Rec-Yds-TD)
CWC – Kit Harris 1-33-0. WF – Brady Melvin 2-11-0, Hunter Ragan 1-(-1)-0.
Coach Simon's Post Game Press Conference: