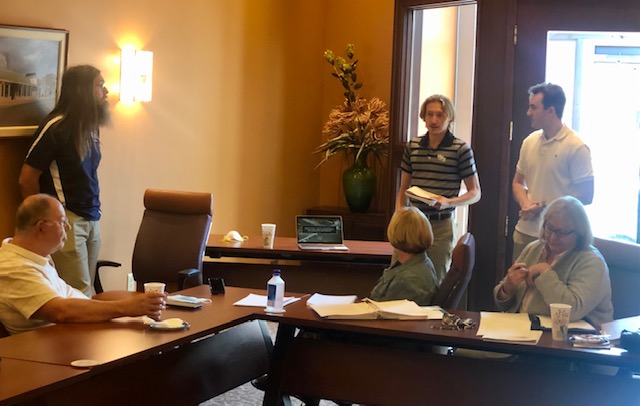 On May 21st, the New Harmony Bridge closed suddenly and unexpectedly.  That hasn't stopped folks from traipsing about, back and forth across it however.  That's one of many things we learned at the Friday joint meeting of White and Posey County Bridge Commissions.  Indiana Bridge Chairman Rodney Clark explains.
Clark says there is evidence the perpetrators are using bolt cutters.  Beyond just taking advantage of the bridge being unmanned and crossing it at their convenience illegally, the brazen individuals have taken it a step further by replacing the commission locks with their own.  Clark found that out while trying to up the ante on chain and locks.
Aside from the tomfoolery, officials say they're optimistic that there remain avenues to re-opening the span.  A University of Southern Indiana Engineering Study plan was presented to kick things off by students Cole Butler and Jared Scales along with their professor, Dr. Kerry Hall.  The team will study the effects of stress distribution on the bridge at the gusset plates which will measure strain, the effects of wind and weight.  Ellen Schanzle-Haskins, who was lead counsel for IDOT from '03 – '13 during which time she was heavily involved in bridge related construction and reopening of the MLK Bridge near St. Louis, the McKinley Bridge, and also helped oversee the construction of the Stan Musial Bridge, believes the work the university will be doing will have an important impact on the commissions' ability to get funding.
That grant application is due July 12th.  Schanzle-Haskins says IDOT has advised her to try to have it submitted 2 weeks prior.  Other discussion at the meeting surrounded an underwater study and National Environmental Policy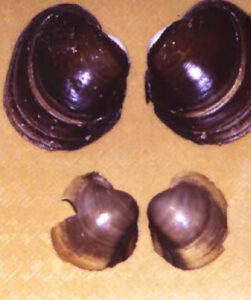 Act studies that need to be done.  Schanzle-Haskins says there could be an issue with a potential endangered species, the Fat Pocketbook Mussel.  Luckily, she has a brother who is willing, able, and even excited to volunteer his time as a master diver and will be employed to conduct both the mussel and fish survey.
The group seemed hopeful to be considered for the federal money saying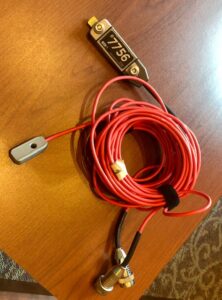 they've received an overwhelming amount of letters of support from both local and state dignitaries offering their assistance.  In total, White County chair Mike "Spud" Egbert estimates there are 3 ways they could get the money needed.  One being directly through this RAISE Grant they're working toward getting submitted, Egbert also says it's possible they could get included in the new infrastructure bill.  And finally, he says it's possible they could attain funding through ear marks.  The group hopes to have a response on the grant prior to their next scheduled meeting in September.