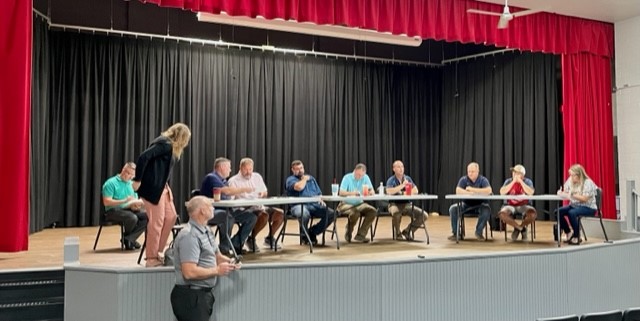 "An unfortunate predicament", is how Superintendent Matt Vollman described the third and final public hearing prior to the official announcement to shutter Booth School in Enfield Thursday night.  About 40 individuals showed up, many continuing to voice concerns over the procedure and reasoning.  It's not a new phenomenon.  NCOE School Board member Dr. Joe Lane himself said he'd been through a consolidation in Gallatin County.  It's been about 20 years since Crossville closed and in neighboring Hamilton County, Dale and Beaver Creek closed.  The rub for many in the room surrounded a perceived secrecy behind the planned closure and the timing.  Folks say they don't trust that this closure just came about in June and some voiced passionate disdain saying they believed plans were in motion as much as a year ago.

The facts remain however that the NCOE School District is suffering from a chronic teacher shortage, a dilemma not unique to NCOE.  Going into next year already the district has needs for a total of 8 certified teachers including (3) K-8 special education teachers and a speech language pathologist.  Vollman says the district is one of 107 districts struggling with what are deemed chronic shortages for educator personnel.  Grayville, Pope County, Clay City, Galatia, Carrier Mills, Christopher, and Waltonville are all also listed in the report.
Matt McArthy says he has 3 responsibilities as a School Board member; to do what's best for the kids, to act fiscally responsible for the taxpayer, and to answer to parents.  He says despite difficult conversations even within his own household, consolidating Booth into NCO is the right move for the kids.  Lane said the ability to align curriculum will help all students rise academically.  That's a sentiment echoed by at least one educator who said neither place was doing it wrong, but having all the kids working on the same school work will make the transition to junior high simpler.
What's been lost in so much of the talk is how the kids themselves feel about the closure.  Board member Rhonda Forston says she received multiple letters from children in the district and said that while they've expressed some sadness at the closure of their "Booth family", they're also excited to meet new friends.
Enrollment is on a downward trajectory.  Since 2000, enrollment in NCOE School District has steadily dropped according to a report from officials.  At the turn of the century, enrollment was at 782.  This year, the district has lost more than 110 students with 668 kids enrolled.  Some have surmised, including board member Heath Rush, that there will come a day when there won't be an NCOE school district and that there will be a singular White County school system.  Class sizes, if Booth remained open, would've been tiny according to a projection from school officials.  The largest classes, 2nd and 3rd grades would've had 13 students each.  The smallest, 4th grade, would've had 5 students.
The final public hearing was only supposed to last 30 minutes before the official school board meeting got underway.  Officials allowed the public hearing to go on nearly an hour though to ensure any and everyone who wanted to speak had the opportunity.  Ultimately, the board unanimously voted to consolidate Booth Elementary students into what will be NCOE.  They followed that up by moving to purchase the former Learn, Grow & Discovery Daycare in Norris City for $95,000 which they plan to utilize as a new Pre-K.
In other board news, leaders voted to charge no book rental fees for the upcoming school year and lunch/breakfast prices were set at $3.15/$1.25 per meal.
Online registration begins August 1st.