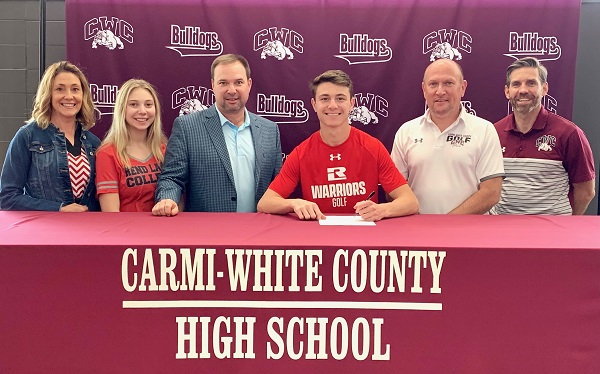 A stand out Carmi White County Senior has chosen golf as his future college sport.  Ty Barbre excelled in golf, track, and cross country over his Carmi White County career and signed a National Letter of Intent to play golf for Rend Lake College.  Barbre earned a full-ride scholarship to kick off his education and athletic college career.
Among Barbre's golf accomplishments, he qualified for the IHSA State Golf Tournament all 4 years of his high school career with his team finishing 4th in the State two consecutive years.  Individually, Barbre placed 12th in the state out of 112 golfers who qualified in 2019.  Barbre was primed to improve on that last year, finishing 3rd in the 2020 sectional before the state tournament was cancelled due to the pandemic.  Barbre was also a medalist in many conference and regional golf matches and tournaments.  He also received various IHSA Regional and Sectional Top 10 finishes.
Barbre was the Southern Illinois Golf Association 14-15 year old Player of the Year in 2017 and an Illinois Prep Tour Tournament Medalist this past year.
The Rend Lake Warriors Golf team is coached by Jeremy May, an NJCAA All American himself back in 1996.  Rend Lake has one of the more successful Illinois Community College programs qualifying for the national tournament the 5 previous years.