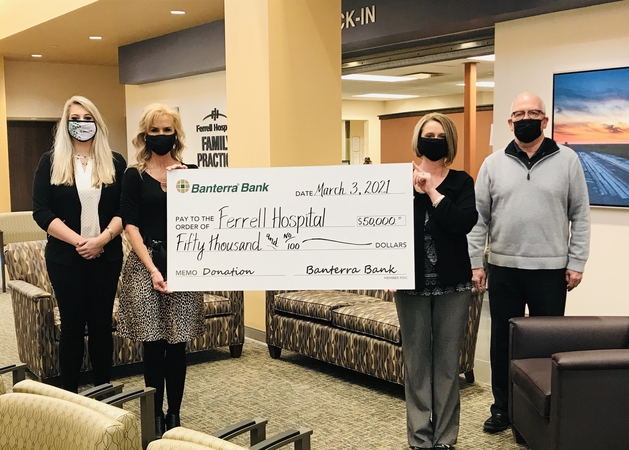 Marion, IL — Banterra Bank has announced a $50,000 donation to Ferrell Hospital in Eldorado, Illinois to secure a naming rights agreement as part of the hospital's new, completed 55,000-sauare-foot expansion. Banterra will have the naming rights to the new public courtyard, located next to the new waiting room area. Ferrell Hospital completed and opened the $34-million expansion in December 2020, and the addition more than doubles the hospital's previous size of 33,000 square feet.
"Ferrell Hospital provides an important service to our region, to our customers and to the communities that we serve," said Jet May, president of Banterra. "For this reason and specifically considering the heroism of our health care workers during 2020, we wanted to do our part in supporting this critical growth need for Ferrell Hospital and local residents."
Ferrell Hospital is located in Eldorado where Banterra also has their corporate office with several area residents as part of the bank's 500+ employee base. Knowing the enhancement this would bring to Banterra team members in the area was an important consideration as well. Ferrell Hospital's expansion is a new, state-of-the-art, modern facility that includes emergency department, operating rooms, endoscopy suite, radiology and lab services, 15 private rooms, inpatient therapy, infusion area, a café, waiting room areas and courtyards. New services offered as part of the expansion include Ear, Nose and Throat (ENT), Orthopedics and Oncology, as well as improvements to physician offices, health information management areas and other support needs.
"We are extremely grateful for Banterra's generous donation thdt contributed to our new expansion," said Alisa Coleman, CEO of Ferrell Hospital. "They are a true community partner to the areas where their customers and team members reside, and we appreciate their ongoing support."
Additional naming right opportunities are still  available.  If you are interested  in the opportunity or would simply  like to  donate to the Ferrell Hospital Community Foundation, you can learn more at www.ferrellhosp.org
ABOUT FERRELL HOSPITAL
Ferrell Hospital, located at 1201 Pine Street in Eldorado, Illinois, was established in 1925. The hospital is one of the area's largest employers with 250 team members and is part of Deaconess Health System which offers health services throughout Illinois, Indiana and Kentucky. In 2020 (or 2019?), Ferrell Hospital had 1,007 total admissions, 12,111 outpatient registrations and ó,043 emergency care visits. To team more, see Ferrell Hospital's Facebook page or go to www.ferreIhosp.org.
ABOUT BANTERRA BANK
Banterra supports a variety of community needs through donations, promotions, volunteerism and year-long charity fundraisers in their branches. Banterra began as a single bank in Ridgway, Illinois in July of 1975. Today, Banterra has $2.3 billion in assets, 40 locations in Illinois, Indiana, Kentucky, Missouri, and Arizona and is ranked in the Top Ten Percent of U.S. Charter Banks and Top Five Percent for Illinois Charter Banks, according to asset size. In addition to offering personal and business banking products, Banterra provides services nationwide through specialty tendini divisions including Aircraft Finance, Machine Tool Finance, Corporate, Transportation and RV and Marine Lending. Banterra also offers Banterra Insurance and Banterra investment services. For information, call 800-BANTERRA (220-8377), or go to www. banterra.com.