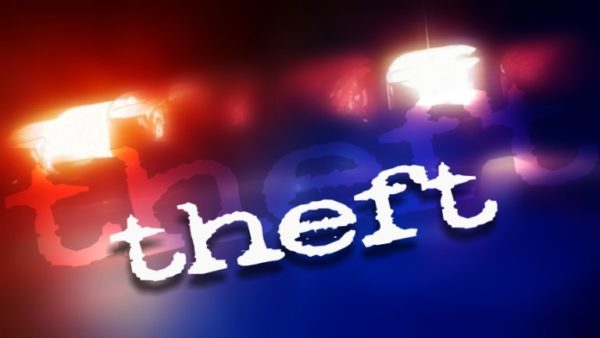 The catalytic converter thieves have struck again.  The White County Sheriff's Department on Wednesday afternoon received a walk-in report of a stolen catalytic converter from 47 year old Gregory Janovich of 922 W. Sycamore St. in Carmi off of a 2003 gold Buick Century.  Janovich said the front two tires on the vehicle are flat, so he believes they had to have jacked the car up to steal it.  A report was taken for Theft Under $500 and placed on fire at the White County Sheriff's Department.
Also on Wednesday, Richard Frost, 54, of Norris City reported that the storage unit his ex-wife owns at Tri-County Mini Storage on Ill. Rt. 1 and US 45 in Norris City, had the lock cut off and items taken.
The lock had the corner broken off.  Frost said he hadn't been to the storage unit in about three or four weeks.  He said a generator and other items had been taken, but didn't know what type of generator it was or what other items were taken.  Frost also said that no one from his immediate family had been at the storage unit to take anything.  The Sheriff's Department attempted to contact the owner of the units, Troy Williams, multiple times to obtain video footage if there was any, but there was no answer.  They will continue to contact Williams.
Around 5 Wednesday afternoon, 39 year old Samantha Blake of Crossville was sitting in a parked car at 503 Hamill Street when Sheriff's officers saw her and knew she was wanted on a White County Failure to Appear warrant.  Blake was advised by them of the warrant and transported her to the White County Jail.  Bond was set at $500 on the warrant, which was for Obstructing a Peace Officer.
Just after 10 Wednesday night, Deputy Matt Wicker was notified about a theft that occurred at the driving range in Grayville.  After arriving at the scene he spoke to the attendant at the cash register who said she didn't see any vehicles drive in after dark, so she believed the suspect was on foot.  The camera system at the range was too far away to see anyone walking at night.  Wicker then went to the nearby Tru-Value Hardware store and learned the outside cameras there were not working properly.  The deputy then called the owner of the driving range, Celeste O'Neal, who said there were over 2,000 golf balls stolen as well.  She said the baskets and golf balls are always out and not put up and secured of a night.  A Theft Over $500 Report was filed at the Sheriff's Department.
On Thursday, just before 10 PM, Haley R. Stocke, 28, of Enfield, was walking across the street from the Sheriff's office to a white car in the parking lot.  Deputy Jordan Weiss knew she was wanted out of Wayne County.  Dispatch advised that she was wanted on a Failure to Appear warrant for Driving While License Suspended.  Since Stocke was in geographical limits, she was approached and told of the warrant, then placed under arrest and walked to the White County Jail.  Stocke posted $500 cash bond, plus a $20 booking fee.
A 2020 Ford F150, owned by 46 year old Christopher Sean Fields of Norris City, was pulled over Thursday just before 4 PM on County Road 1050 East in Carmi.  He was cited for DUI with a BAC of .08 or more and placed under arrest for a felony warrant.  Fields bonded out to $1,800; $300 for the DUI and $1,500 for the warrant arrest, plus a $20 booking fee through court money.
Brandon J. Keown of Crossville was cited at an unknown location for Driving While License Suspended or Revoked at 7 Wednesday night.