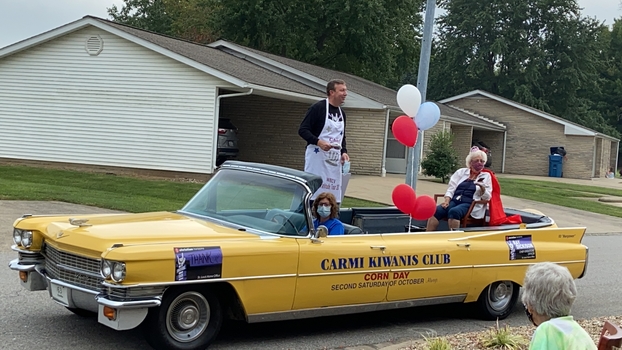 (Carmi, IL) Christian Horizons Gratitude Tour stopped in Carmi, IL Friday, September 11. A car parade grand marshaled by Ray Dickison, Chief Operating Officer and COVID Task Force Leader, Sandra Bryant, Wabash Christian Village Executive Director, Kathryn Cowling, Supportive Living Resident, and Lynne Jo Cruse, Activity Aide received an overwhelming show of support and gratitude from Christian Horizons leadership, area first responders and members of the community for their dedicated service during the COVID-19 pandemic.
"It was a very emotional, yet amazing day, and much need for our residents and our staff, " said Roaslind Mason, Assistant Administrator at Wabash.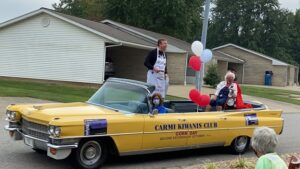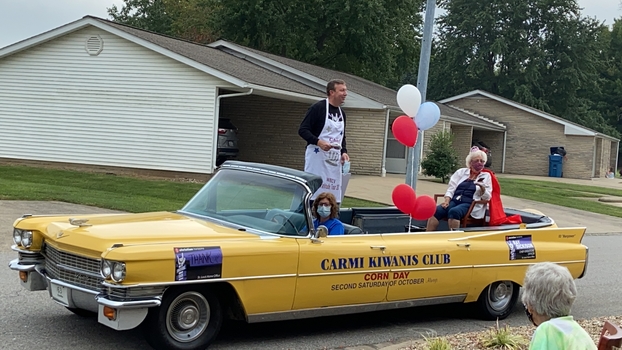 The grand marshal vehicle was the Carmi Kiwanis Club's yellow Corn Day Cadillac limo and club member Rod Matsel drove the Corn Car. Bryant's Miniatures and First Bank participated in the parade and Huck's provided wonderful goodie bags filled with snacks which residents enjoyed.
Joined by White County Ambulance, Carmi Fire Department, and The American Legion Train, Gary Cates with Cherry Street Automotive remembered first responders who died saving others during the Sept. 11, 2001, terrorist attacks.
"Words cannot express how blessed we are to live in a supportive community," said Bryant. "The number of individuals and businesses that showed up to participate in the parade was unbelievable. Thank you for making the Gratitude Tour a wonderful day for our residents."
"Even though residents had masks on you could see beauty in their faces," said Kara Kesler of First Bank. "Truly memories were made today."
Led by Dickison, the Gratitude Tour planned stops at all of its senior living communities and health care divisions located in Indiana, Illinois, Iowa and Missouri. Each tour stop featured outdoor thank-you events where families and members of the communities were invited to join in but maintain safe social distance.
"The Christian Horizons Home Office leadership team envisioned this event and took the time to visit our community which meant so much to our associate and residents. They brought fun energy to the day," said Bryant.
In a video statement, Dickison said he wants associates across the ministry to know "how grateful and thankful [we] are for their hard work, continued dedication and focus as we respond and manage through the COVID-19 pandemic."
Visit us online at WabashChristianVillage.org and on Facebook at https://www.facebook.com/WabashChristianVillage to view event photos.