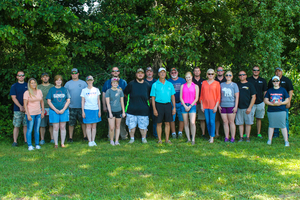 The Young Leader Committee of the White County Farm Bureau held its 10th Annual Young Leader Pistol Shoot at the Carmi Rifle Club on Saturday, July 11. Twenty-one shooters participated this year.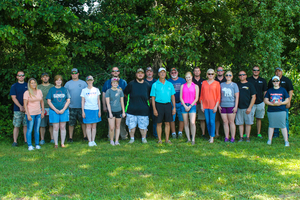 This year's event had one competition, a "Speed Steel" event, where shooters had to work their way through six different stations, with five steel targets each. Individuals shot five relays at each station for a total of 150 targets shot. Time was kept for each relay with the slowest relay time at each station being dropped. All remaining times were added. The lowest overall time won the competition.
In the adult division, Jared Dowdy of Woodlawn, IL won the division with a total time of 78.64 seconds. Second place went to Justin Aldrich of Carmi, IL with a time of 82.79 seconds. Jason Kosikowski of Carmi, IL took third place with a time of 83.05 seconds. Jared won a brick of .22 ammunition for winning the division.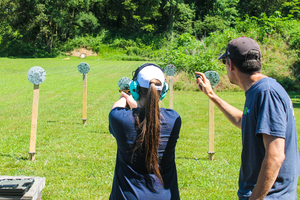 In the youth division (16 & under), there was one shooter this year. Kaitlyn Aldrich of Carmi, IL took first place with a time of 132.06 seconds. Kaitlyn received a brick of .22 ammunition for winning the youth division.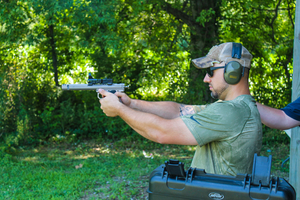 All of the shooters were given one ticket for the grand prize drawing of a Ruger Mark IV target pistol. The top three shooters in each division were given extra chances. Jason Kosikowski of Carmi, IL was the winner of the pistol. The pistol was donated byThe Gun Room at Indian Creek RV in Norris City.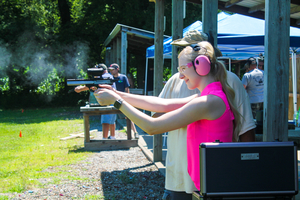 The Young Leader Committee would like to sincerely thank the 2020 sponsors of the Pistol Shoot…
HARVEST SPONSORS – The Gun Room at Indian Creek RV, Citizens National Bank of Albion, COUNTRY Financial, Wabash Valley Service Company, Yesterday's Drive-In & Catering, Botsch & Associates CPAs, JW Equipment, Precision Crop Services, Farm Credit Illinois, Fairfield Memorial Hospital, JL Farm Equipment, First Bank, H&R Agri-Power, Burnt Prairie Fertilizer, Remington Seeds, and the Carmi Rifle Club.
GROWTH SPONSORS – Don's Bumper to Bumper, Carter Trucking, Consolidated Grain & Barge, Country Financial-Steve Thomson, Roark Trucking, Locust Street Company, Vaughan's Diesel Repair, Ambient Heating & Cooling, and Dartt & Company, CPA.
Proceeds from the Young Leader Pistol Shoot will support the annual Young Leader Collegiate Scholarship. Proceeds above the 2021 scholarship amount will be donated to a local food pantry.