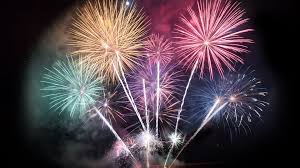 The lifting of Covid restrictions is good news for fans of fireworks as many Tri-State communities will be hosting Fourth of July displays this year.
That after most Independence Day celebrations were cancelled last year.
Evansville will be hosting Fireworks on the Ohio,Sunday, July 4th after it was cancelled last year. Food trucks and other vendors, along with some special events including a free musical performance will be part of the celebration.
Evansville fireworks will begin around 9:15 on the riverfront.
New Harmony will host a number of special events in association with July 4 beginning Sunday morning around 10. A golf cart parade will begin at the Atheneum Welcome Center. The parade will proceed to the MaClure Bandstand where the New Harmony Kiwanis Club will host the traditional community july 4th picnic. Additional information about the New Harmony celebration is available on the New Harmony Facebook page.
The DPI (downtown Princeton, Indiana) Freedom Festial 2021 will highlight the Princeton celebration. The festival will kick off around 4 Sunday afternoon with a car show.
The vehicles will be on display around the Princeton Courthouse. There will be live music and a fireworks display Sunday night.
Henderson, Ky., residents will be celebrating Saturday, July 3. The Independence Bank Fireworks Display will begin around 9 Saturday night, following live music which will begin around 5:30. The Henderson festivities will be held at Audubon Mill Park, along the Ohio River.