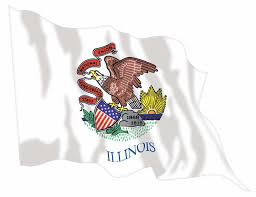 GOP WANTS ADS TAKEN DOWN
Republicans say Gov. J.B. Pritzker should take down his political ads promoting his actions in the COVID-19 pandemic. The Illinois GOP said the governor can't have it both ways by running ads they say the governor is taking a victory lap at the same time as he institutes new COVID-19 mandates. Pritzker reacted Wednesday saying his message is Illinois is doing a good job facing the challenges.
COVID TESTING ALL SCHOOLS
Thanks to federal taxpayer funds, all public schools in Illinois now have access to free COVID-19 testing. The Illinois Department of Public Health says by making the saliva-based COVID test developed by the University of Illinois for all public K through 12 schools, staff and students exposed to a COVID-19 positive case can "test-to-stay," to show a negative test instead of having to quarantine at home.
FALLEN OFFICER
Illinois State Police report a Brooklyn police officer is dead after he was struck by a car that was involved in a police chase. It happened early Wednesday morning as patrolman Brian Pierce Jr. was deploying stop sticks on the McKinley Bridge when he was hit. Four people have been arrested.
The attorney suing the governor over his COVID-19 orders impacting youth sports says his announcement of masks for indoor youth sports bolsters the case. The governor's attorneys attempted to have the case dismissed, saying prohibitions were no longer in place and the case was moot. Parents' Attorney Laura Grochocki (grow-HUCK-ski) said new restrictions on youth athletes show it's not moot and the case is moving forward with discovery.
VACCINE MANDATE
Some governing bodies throughout Illinois are looking at how to increase vaccinations among public employees. Gov. J.B. Pritzker called for the unions to come to the table for some state employees to be mandated. City leaders elsewhere are reviewing what policies they can implement to require masks, require regular testing or proof of vaccine for public employees.
UNEMPLOYMENT
Nearly 500 more Illinoisans filed for initial unemployment claims last week than the week before, for a total of more than 19,000. The U.S. Department of Labor also reports around 80 more independent contractors filed for Pandemic Unemployment Assistance benefits for a total of more than 1,100 new claims for the week. More than 416,600 Illinoisans are getting benefits.