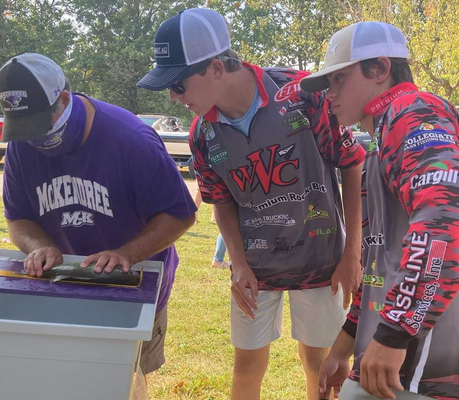 Vandalia, Ill.— Two weeks into its inaugural season, the Wabash Valley College bass fishing club team is making a name for itself in the Association of Collegiate Anglers.
Saturday, the tandem of Drew Gill and Clayton Halbig finished in seventh place out of 36 boats in the McKendree University Invitational on Vandalia Lake. The event was added to the schedule only recently and five of the 14 Warrior fishermen were entered.
One week earlier, the full contingent competed for the first time, recording three top 10 finishes in the individual sessions of the Bass Pro Shop Big Bass Bash at Paris, Tenn. on Kentucky Lake.
Though the final standings for the season-opener have not been released yet, unofficial tabulations show the Warriors finished ninth out of more than 30 teams entered.
"In the grand scheme of things, there were seven weigh-in periods, and in three out of the seven we had an angler in the top ten, and we had four anglers bring fish to the scales on Sunday" said coach Professor Todd Gill. "So, I'm pretty pleased about that."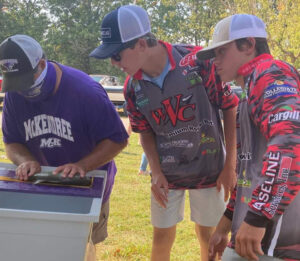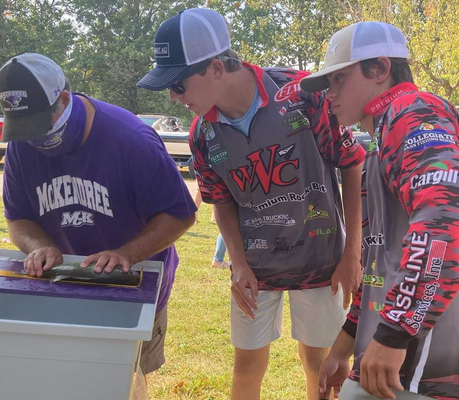 There were four weigh-ins on the first day of the two-day tournament. Drew Gill, along with co-angler Clayton Halbig, beat the last weigh-in deadline by only 90 seconds, but it was worth it. Gill's catch of 4.39 pounds was the third best of that session, and sixth best for the whole day on Saturday against a field in excess of 300 fisherman.
On the final day, Halbig finished eighth in one of the morning weigh-ins with a catch of 3.22 pounds, and Zane Kelly brough in a catch good for ninth in another (2.23 pounds).
Each of the top 10 finishers for each session earned prizes from tournament sponsors as well.
Overall, Gill's catch held up for 11th place for the weekend. Halbig's catch was tied for 32nd. Cole Hess (a catch of 2.38 pounds) and Kelly also wound up in the top 100.
Both events were sanctioned by the ACA, which conducts a Team of the Year competition (McKendree won last year). At each stop off, the top two finishes earn ACA points. Teams hope to earn enough ACA points to land a spot in the US Collegiate Bass Championships, which will be held on May 26-27 at Lake Murray, SC.
The next stop for WVC is Lake Dardanelle, Ark., for the sanctioned AFTCO Collegiate Bass Open, on Oct. 10-11.