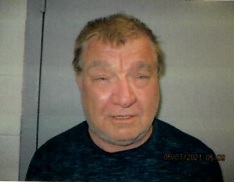 A Carmi man who called authorities to report his vehicle stolen ended up arrested himself Friday thanks to a warrant.  Friday evening at just before 8pm, 62 year old Joe Dennis Weccele called Sheriff's authorities to tell them a friend had taken off in his vehicle.  After taking the report, the deputy placed Weccele under arrest.  He was wanted on a charge of theft.  Weccele bonded out to $250 cash plus booking fee a short time later and is due in court for a first appearance on Wednesday, June 8th before Judge T. Scott Webb.
Saturday morning, law enforcement was called to Whitsitt Farms in rural White County in reference to a burglary.  Laura Whitsitt told the deputy several items had been taken at some point over the last two weeks, among them:
(60) 5 gallon and 3 gallon buckets, 3 garden hoses, 3 new soaker hoses, two electronic dog collars, 5 large feed buckets, 6 bottles of "Sevin5" insect killer, a wall thermometer and an unknown number of garden tools.  The deputy noted that he had taken a report from Whitsitt involving a burglary from another building on the property some time ago and was able to provide video and photographic evidence that led the Sheriff's Department to ID the suspect as Donald Jordan of Carmi.  The deputy then headed for Jordan's residence on Crebs Avenue where he found the man hosting a garage sale.  Whitsitt was called and was able to identify many of the buckets she said belonged to her.  Whitsitt signed a probable cause complaint and the 73 year old Jordan was arrested for Possession of Stolen Property.
A catalytic converter has been reportedly stolen.  A White County Sheriff's Deputy was called by Jamie Thomason of Crossville.  He told the officer he believes at some point Friday someone took the exhaust emission control device from a 1996 Dodge Ram dump truck he had parked on the northeast corner of the Main and Cross Street intersection in town.  Thomason is the owner of the vehicle and he filed a theft report with the Sheriff's office.
A Newton, Illinois man has been formally warned to stay off of property belonging to a local company.  Sunday morning, authorities were called to an oil lease property of Shawnee Oil Company in a rural part of the county.  Company employee Dan Ledford says another employee had come upon two vehicles on the property when arriving to check on the property.  One fled while the other remained on the property and was identified as 48 year old Damon Patterson.  A complaint was signed against Patterson, but he wasn't arrested.  Instead he was given a formal warning and advised he'd be arrested for Criminal Trespass if he was found on one of the company's properties again.