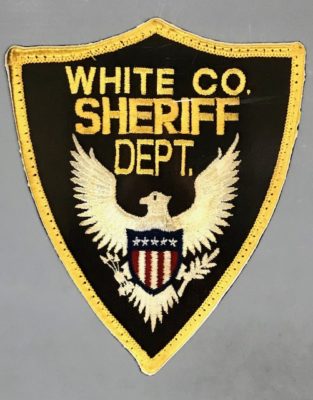 The White County Sheriff's Department says the public has identified the young people involved in the recent burglary at The Wonder Market in Norris City.  A release from Sheriff Randy Graves says Deputy Jordan Weiss played an important role in helping to identify the young people.  By posting the photos of the burglary on social media, Graves says the Rays were inundated with calls giving potential and positive ID's.  Because the suspects are juveniles, they won't be named, but a report has been filed with State's Attorney Denton Aud for review and all the individuals will be summoned to appear in White County Court for advisement of charges they'll be facing.
More catalytic converters are being reported stolen according to information just released by White County Sheriff's authorities.  25 year old Spencer Hanson of Crossville signed a complaint for theft Saturday at the New Life Church on Route 14.  Hanson told the officer he'd left his 2007 Dodge Ram in the parking lot Monday evening and returned Saturday.  Sometimes during last week, he says someone cut off and took the catalytic converter from the truck.  That's the same story from J'ne Isaacs of Carmi.  She says she left her car at the church Monday evening and when she returned Saturday afternoon, she found someone had stolen the part from her 2000 Buick LeSabre.
A Crossville woman is facing two felonies and a misdemeanor charge following her arrest by White County Sheriff's authorities over the weekend.  An officer pulled over 30 year old Ashely Bebout in the alley on North Church after seeing her driving saying he knew she was wanted on a Wayne County warrant and also that she had a suspended license.  During the arrest, law enforcement found a multitude of items belonging to other people including a purse that had been reported stolen, a catalytic converter, and a reciprocal saw.  Additionally found were pipes, needles, cannabis, and meth.  The truck Bebout was driving belongs to Derek Randolph who initially wanted to report the truck as stolen.  He says Bebout moved out of his trailer two weeks ago and didn't have permission to take the truck.  In the end, he decided against it.  Still yet, Bebout is facing citations for Driving While License Suspended and Unlawful Possession of Cannabis in a Motor Vehicle to go along with charges of Possession of Meth, Hypodermic Needles, Drug Paraphernalia, Unlawful Use of Property, and the Wayne County warrant for Failure to Appear in relation to a Retail Theft charge.  Court records indicate Bebout was in court Monday for a first appearance and will return today for a status hearing.
Oilman Brett Haley says someone or some ones have been schlepping onto his oil leases and damaging property.  Haley told a deputy he found that a motor had been removed from a pumping unit at one of his lease sites Sunday.  Additionally, the belts and power cable had been cut, the motor unbolted and removed from it's mounting brackets.  No suspects were named in the report, but a large portion of the narrative is redacted.  An investigation is ongoing.
Monday morning, 43 year old Elizabeth Donaghue called the Sheriff's Department to report a burglary at her residence on Summit Street in Carmi.  She says about a month ago, she lost the keys to the home.  When she left the house on Friday, she says she saw two males walking up the street near her home and that while the front door to the home was locked, it's possible to enter the home through another door that won't lock.  She says she noticed on Saturday that a Social Security card and birth certificate for her son were missing as was medical card information from a folder inside the home.  She says she didn't know with certainty that the men she saw were responsible but stated she wanted to include it in the report.  The officer then advised Doneghue steps she could take to replace the documents.